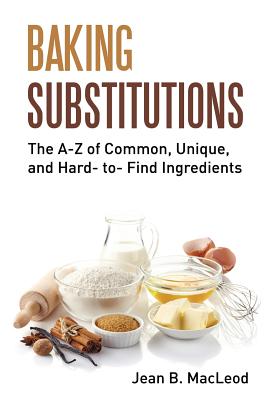 Baking Substitutions (Paperback)
The A-Z of Common, Unique, and Hard- To- Find Ingredients
Jean B. MacLeod, 9780997446449, 234pp.
Publication Date: July 27, 2018
* Individual store prices may vary.
Description
Do you love baking?
Are there occasions when you find it almost impossible to source an ingredient, no matter where you look?
This book is here to help
Most people bake at some point in their lives. There can be nothing more satisfying than producing a special treat for yourself or your family. But what happens on those occasions when you cannot find that vital ingredient you need?
In this book, Baking Substitutions The A-Z for Common, Unique, and Hard-to-Find Ingredients, you will discover plenty of clever ideas that will help when you get stuck, including:
Making emergency substitutions for common ingredients
Creating low-fat, low-sugar, and low-salt alternatives
Converting recipes into gluten-free, lactose-free, or vegan versions
Using edible, wild fruit, nuts and berries
Trying new recipes without investing in a one-off ingredient
Avoiding waste and saving time
And lots more...
More than just another cookbook, Baking Substitutions could revolutionize the way you think about food and cooking and is packed with hints, tips, and useful recipes as well.
Get a copy today. No kitchen should be without this worthwhile addition that will inspire and motivate you in equal measure