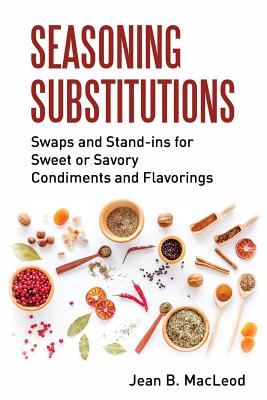 Seasoning Substitutions (Paperback)
Swaps and Stand-ins for Sweet or Savory Condiments and Flavorings
Jean B. MacLeod, 9780997446470, 254pp.
Publication Date: June 8, 2018
* Individual store prices may vary.
Description
Packed with suggestions and recipes, Seasoning Substitutions is a veritable treasure trove destined to save the busy cook both time and money.
Improvising can save a savvy cook not only time and money but unnecessary trips to the grocery store. With Seasoning Substitutions you'll find alternatives and facsimiles for condiments from around the world, enabling you to optimize your choices by cooking with what's on hand (or less expensive). Making emergency substitutions or ethnic dishes has never been easier, let alone the money you'll save, the waste you'll avoid, and the sense of accomplishment you'll relish.
This practical A to Z handbook will show you how to
Create replicas of commercial products
Make emergency substitutions for everyday items
Produce low-fat, low-sugar, or low-salt alternatives to your favorite dishes
Convert dozens of recipes into gluten-free, lactose-free, or vegan versions
Understand the differences between various kinds of vinegar, oils, sauces, and sweeteners
Try new recipes without investing in a one-time needless expenditure
Use everyday ingredients in place of hard-to-obtain exotic ones
Embark on a culinary adventure without blowing your food budget