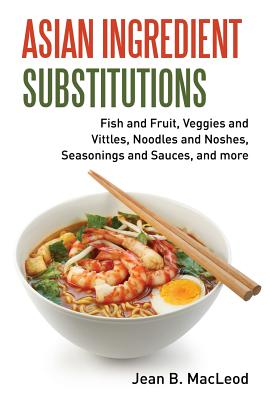 Asian Ingredient Substitutions (Paperback)
Fish and Fruit, Veggies and Vittles, Noodles and Noshes, Seasonings and Sauces, and More
Jean B. MacLeod, 9780997446487, 168pp.
Publication Date: September 11, 2018
* Individual store prices may vary.
Description
Are you an Asian food aficionado? An adventurous cook? An innovative cook? A curious cook? Or perhaps a budget-minded cook looking to produce Asian-inspired dishes using local products? Then this book is for you. Containing the flavors and foods of China, Japan, Thailand, Vietnam, Korea, Taiwan, Singapore, Malaysia, the Philippines, Indonesia, Myanmar, and India, the book is a comprehensive collection of all the available substitutions presented in a convenient A-Z format.
Packed with tips, tricks, and suggestions, this practical resource will show you how to
Create replicas of commercial products
Use locally sourced ingredients in place of hard-to-obtain exotic ones
Choose the best alternative for the required component
Produce low-fat, low-sugar, or low-salt alternatives to your favorite dishes
Convert dozens of recipes into gluten-free, lactose-free, or vegan versions
Understand the differences between various kinds of noodles, rice, seasonings, and condiments
Avoid paying pricey prices for spices with a limited shelf life
Try new recipes without investing in a one-off ingredient
Embark on a culinary adventure without blowing your food budget