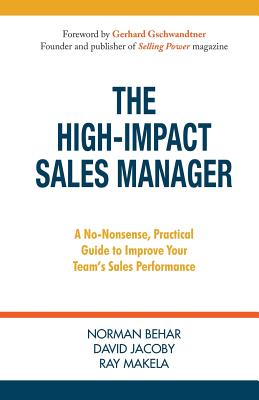 The High-Impact Sales Manager
A No-Nonsense, Practical Guide to Improve Your Team's Sales Performance
Paperback

* Individual store prices may vary.
Description
Managing a sales team is one of the most important and challenging positions in a company, and it requires a unique set of skills. Unfortunately, many sales managers spend much of their day putting out fires, and moving from problem to problem. Their days consist of an overwhelming number of activities including respond to urgent request from their bosses, resolving customer issues and complaints, and dealing with disgruntled employees. In addition, they find themselves sitting in meetings that run way too long, and submitting countless sales forecasts to satisfy upper management. As a result, sales managers get caught up in a daily grind and end their work week exhausted and feeling like they have little control over their destiny.
In The High-Impact Sales Manager, you'll learn how to transcend the daily grind and unlock the full potential of your sales team. This includes learning to:
- Hire the best people and hold them accountable
- Manage sales performance by focusing on the underlying behaviors that drive performance
- Consistently produce accurate sales forecasts
- Provide personalized sales coaching that results in better skills and higher win rates
- Motivate and inspire your team to greatness
Most importantly, The High-Impact Sales Manager will leave you feeling confident and enthusiastic in your ability to lead and empower your team to achieve unparalleled success.
About the Authors
Norman Behar is a proven sales leader with over 25 years of CEO and senior sales management experience. He is recognized as a thought leader in the sales training industry, and has worked with clients in a wide range of industries including financial services, healthcare, technology, manufacturing, and distribution. Norman's white papers and blog posts are frequently featured in leading trade publications. Previously, Norman served as President and CEO of Catapult, Inc., a leading provider of personal computer training services, where he oversaw operations and managed growth prior to the company's acquisition by IBM. Norman received his B.A. from the Foster School of Business at the University of Washington, where he graduated Summa Cum Laude.
David Jacoby has extensive experience developing and implementing innovative sales training and sales leadership development solutions for clients. David is a thought leader in instructional design and the use of innovative technologies to deliver industry leading online sales training programs. Previously, David has served as Vice President of Business Affairs of Xylo, Inc., where he was responsible for the Company's business development, sales operations, legal affairs and financing activities. Before joining Xylo, David was a corporate attorney with Skadden, Arps, Slate, Meagher & Flom LLP, where he practiced in the firm's mergers & acquisitions group. David received his J.D. from the Columbia University School of Law, where he was a Harlan Fiske Stone Scholar, and received his B.A. from the University of Washington, where he graduated Summa Cum Laude.
Ray Makela has over 25 years of management, consulting, and sales experience. As a Managing Director at Sales Readiness Group, Ray currently oversees all client engagements. Previously, Ray served as Chief Customer Officer (CCO) at Codesic Consulting, where he was responsible for business development, managing customer relationships, and the development and implementation of Codesic's sales-training initiatives. Ray has also held management positions at Accenture and Claremont Technology Group where he was a management consultant in the Change Management practice. Prior to his consulting career, Ray served as a Division Officer and NROTC Instructor in the US Navy. Ray earned his B.A in Speech Communications from the University of Washington and an M.P.A. in Public Administration and Information Systems Management from the University of Southern California.
Sales Readiness Group, 9780997464009, 160pp.
Publication Date: May 15, 2016