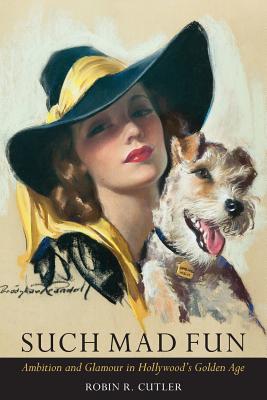 Such Mad Fun (Paperback)
Ambition and Glamour in Hollywood's Golden Age
View Tree Press, 9780997482300, 328pp.
Publication Date: July 21, 2016
Other Editions of This Title:
Hardcover (7/21/2016)
* Individual store prices may vary.
Description
AVAILABLE IN ALL FORMATS SEPT 8, 2016
What determines who a woman will become? Jane Hall was an orphan at fifteen and a "literary prodigy" according to the press. How did this spirited young girl from an Arizona mining town become a Depression-era debutante, a successful author of magazine fiction, and a screenwriter at Hollywood's most glamorous studio? At Metro-Goldwyn-Mayer Jane wrote the story and the script for the "best social comedy of 1939," These Glamour Girls, and established a lively camaraderie with F. Scott Fitzgerald, who worked in the office next door to hers. But Jane's ambition conflicted with the expectations of her family, her friends, and the era in which she lived. Drawing on her mother's diaries and scores of letters, historian Robin Cutler takes us on an unforgettable journey through 1930s Manhattan and Hollywood as Jane wrestles with who she was meant to be. Such Mad Fun is a coming-of-age story set in a decade that has surprising parallels with American life today. For much more: www.robinrcutler.com.
FROM THE ADVANCE REVIEWS:

. . . . In this well-researched account . . . the author thoughtfully examines the allure and trap of glamour. In this, Hall's story mirrors those of many female professionals even today, who face immense pressures to maintain a certain look. Hall's brushes with Hollywood and literary celebrities make great reading . . . This portrait of a more literary mass-market America offers much food for reflection on modern culture. A valuable, absorbing contribution to the history of women, golden-age Hollywood, and America's magazine culture of the 1930s and '40s.

KIRKUS STARRED REVIEW

Such Mad Fun is about the golden age of Hollywood, about mothers and daughters, about the ways people disappoint each other and themselves. It's a seamless story of twentieth century life narrated with style and verve and empathy.

SCOTT EYMAN, New York Times bestselling author of John Wayne: The Life and Legend and twelve other books.

Such Mad Fun adds much to our understanding of Depression-era American culture . . . It provides a rare glimpse into the inner workings of the studio system during its heyday as Hall negotiated interminable story conferences, demanding producers, the strictures of the Production Code, and credit squabbles with occasional escapes to Palm Springs to regroup. It also reminds us of the many challenges women of talent at the time faced as they pursued their ambitions. Robin Cutler tells the story of a remarkable woman and ably brings to life the milieus, both social and professional, Jane Hall inhabited during a fascinating life.

RICHARD A. FINE, author of West of Eden: Hollywood and the Profession of Authorship.

Robin Cutler is pitch-perfect in her description of the glittering social worlds of 1930's New York and Hollywood. Such Mad Fun chronicles the adventures of Cutler's prodigy mother, Jane Hall . . a gifted young writer whose wit and creativity assured success though Jane ultimately had to choose between her creative ambitions and the glamorous life she cultivated . . Working from her mother's writings and diaries, and written with the momentum of a page-turning novel, Robin Cutler's excellent new book is a must read.

LINDSAY C. GIBSON, PSY.D. author of Who You Were Meant to Be: A Guide to Finding or Recovering Your Life's Purpose.