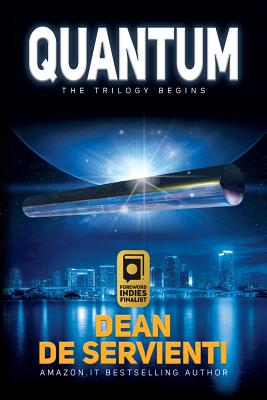 Quantum (Paperback)
Dean de Servienti, 9780997489927, 370pp.
Publication Date: September 30, 2016
* Individual store prices may vary.
Description
Darfur, Sudan. 2009. Two doctors employed by NGOs stumble across a strange metallic cylinder, which has been embedded-for perhaps millions of years-in desert rock. Mystified by the object, they gather four of the world's leading experts in science and technology-a computer scientist, a physicist, a biochemist, and a genetic researcher-and head to London to study it thoroughly. The six have barely begun running tests on the cylinder, when they suddenly disappear-telling family members not to go looking for them. But word about the discovery has gotten out-and for these six civilians, it might already be too late. Mossad, the Israeli national intelligence agency, has been instructed to recover the mysteriously powerful object at any cost-even if that means eliminating the scientists. Hot on Mossad's trail is the CIA, determined to chase down the fugitives first, no matter the consequences. As the noose tightens, the six scramble to figure out the what the cylinder is and who built it-ultimately revealing a dramatic truth that could change the world forever. A fast-paced, globe-trotting thriller that asks the reader to consider the earth's very origins, Quantum is the first novel in a three-book series. The novel ranked first on Amazon.it in 2013.
About the Author
Dean De Servienti was born in Italy in 1961. A journalist and an independent film producer, his travel documentaries have been broadcast on more than twenty television stations around the world. De Servienti, who has been traveling the world since the age of seventeen, spent several years in Western Africa in his early twenties, growing familiar with both the territory and its people; he has also worked with NGOs based in Central and South America. Since 2009, he has focused on writing novels that draw on his extensive travel experience for inspiration. Quantum is the first in a three-book series; the second and third titles in the trilogy, will both be available in English in 2017.
or
Not Currently Available for Direct Purchase