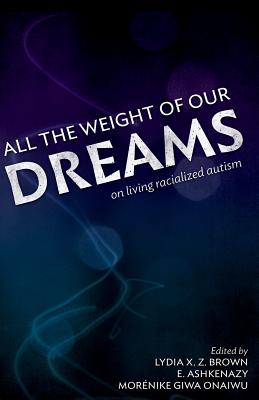 All the Weight of Our Dreams (Paperback)
On Living Racialized Autism
Dragonbee Press, 9780997504507, 556pp.
Publication Date: June 19, 2017
* Individual store prices may vary.
Description
Delve into poetry, essays, short fiction, photography, paintings, and drawings in the first-ever anthology entirely by autistic people of color, featuring 61 writers and artists from seven countries. The work here represents the lives, politics, and artistic expressions of Black, Brown, Latinx, Indigenous, Mixed-Race, and other racialized and people of color from many autistic communities, often speaking out sharply on issues of marginality, intersectionality, and liberation.
About the Author
Lydia X. Z. Brown (Autistic Hoya) is a gender/queer and transracially/transnationally adopted east asian autistic activist, writer, and speaker whose work has largely focused on violence against multiply-marginalized disabled people, especially institutionalization, incarceration, and policing. They have worked to advance transformative change through organizing in the streets, writing legislation, conducting anti-ableism workshops, testifying at regulatory and policy hearings, and disrupting institutional complacency everywhere from the academy to state agencies and the nonprofit-industrial complex. At present, Lydia is Massachusetts Developmental Disabilities Council chairperson, TASH New England co- president, and Autism Women's Network executive board member. Previously, they worked for the Autistic Self Advocacy Network. E. Ashkenazy is passionate about Disability Rights and self-advocacy. She seeks to promote widespread understanding of the needs and rights of autistic individuals, especially females. E.A. is the Community Council Chair for Academic Autistic Spectrum Partnership in Research and Education (AASPIRE). She is highly involved in Community Based Participatory Research (CBPR), and served on the Community Advisory Board for the Partnering with People with Developmental Disabilities to Address Violence Project via the University of Montana Rural Institute. E.A. has also served on community advisory boards addressing disability and healthcare, as well as disability and pregnancy. Morenike Giwa Onaiwu often thinks in song lyrics; the one that felt most befitting to include in this publication was: "Say it loud...I'm Black and I'm proud!" from the late James Brown. Morenike is a community advocate, writer, Christian, mom, and educator. American-born to immigrant parents, she feels that her role as a Black Autistic woman in a multicultural, multinational, neurodiverse, serodifferent family fuels her human rights advocacy. Morenike has several years of program management experience and is involved in a myriad of social justice activism endeavors including HIV-related advocacy, disability rights, learning via technology, research, gender and racial justice, and promoting inclusion. She has also written for and/or been featured in numerous blogs, magazines, and other platforms.