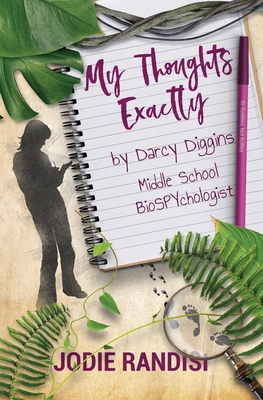 My Thoughts Exactly
By Darcy Diggins, Middle School Biospychologist
Paperback

* Individual store prices may vary.
Description
The Darcy Diggins and Grandma Earlene series of novels for middle grade readers puts a spotlight on the power of kindness while addressing how to manage bullies--whether they're in middle school or middle-aged. Twelve year-old Darcy Diggins has an incredible story to tell, but who is going to believe that an anonymous act of kindness can produce a full-grown miniature person called a Dewbabie, and that the misplaced tribe of tiny people from the RainForest live in her closet? In order to protect the Dewbabies, Darcy enlists the help of her grandmother, Ms. Earlene, the celebrity storyteller whose outfits are always worth a mention. Darcy not only has to manage a middle school bully determined to ruin her reputation, she also has to restrain a middle-aged bully who happens to be her miserable, misguided aunt and guidance counselor.
The author provides teaching ideas, lesson plans, printables, and activities to go along with the book.The easy-to-implement projects are well-suited for any 21st century classroom. For the middle school educator, you'll find that each extension activity meets students where they are, promotes deeper learning, caters to their diverse learning needs, and best of all, will stimulate interest in a variety of subjects.
Cowcatcher Publications, 9780997517248, 222pp.
Publication Date: April 3, 2020
or
Not Currently Available for Direct Purchase