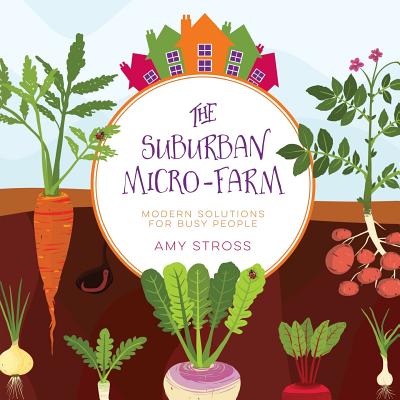 The Suburban Micro-Farm: Modern Solutions for Busy People (Paperback)
Modern Solutions for Busy People
Twisted Creek Press, 9780997520804, 356pp.
Publication Date: December 14, 2016
Description
Yield abundant harvests from your own yard with only 15 minutes a day!

Do you long to find the secrets of gardening with the time you have? Are you ready to feel more connected to your home? Would you like the satisfaction of growing healthy food for your table?

Author Amy Stross talks straight about why the suburbs might be the ideal place for a homesteading lifestyle.

In these pages you'll learn:
Why the suburbs are primed with food-growing potential
Why you don't need the perfect yard to have a micro-farm
Why gardens don't have to be relegated to the backyard
How you can make your hard-earned asset (lawn) work for you
How to squash garden overwhelm with free bonus downloads
How to develop and nurture healthy soil
How to choose the best crops for success
How to make your landscape as beautiful as it is productive
How to use easy permaculture techniques for stress-free, abundant harvests and increased biodiversity

If you're ready to create a beautiful, edible yard, this book is for you.
About the Author
After helping to manage an organic farm project and working as a professional landscape gardener, Amy Stross transformed her suburban yard into an edible landscape. Her training in permaculture design led her to develop a community food forest at her local university, for which she won the Urban Bounty Award for 'building community and changing lives through the harvest of community gardening'. Amy has reached hundreds of thousands of people with her expertise and adventures in permaculture gardening on her website, TenthAcreFarm.com.
Praise For The Suburban Micro-Farm: Modern Solutions for Busy People…
Bored with the lawn? Learn how to turn your suburban yard into a suburban farm with Amy Stross' concise, detailed and well organized how-to garden manual. Erik Knutzen and Kelly Coyne, authors of: The Urban Homestead and Making It: Radical Home Ec for a Post Consumer World

Amy Stross has not only written a helpful book, but an important one too. Suburbia is ripe with healthy and delicious food-growing potential. Amy shows us how to tap this potential by sharing practical tips gleaned from her own experience as a micro-farmer on one-tenth of an acre. Get ready to feel both empowered and inspired! Roger Doiron, Founding Director of Kitchen Gardeners International
Advertisement