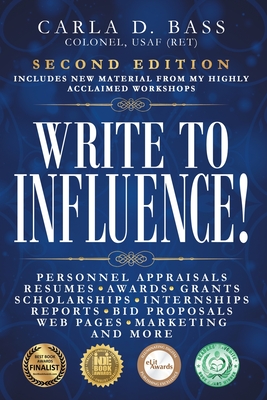 Write to Influence!
Personnel Appraisals, Resumes, Awards, Grants, Scholarships, Internships, Reports, Bid Proposals, Web Pages, Marketing
Paperback

* Individual store prices may vary.
Description
Winner of five national-level awards:
2020 eLit Book Awards - Gold Medal: Education/Academic/Teaching
2018 eLit Book Awards - Bronze Medal: Business/Careers/Sales
2017 Next Generation Indie Book Awards - Finalist: Careers
2017 Best Book Award - Finalist: Careers
2017 Reader's Favorite Award - Honorable Mention: Occupation
What readers say:
Your Write to Influence training ... led to increased professional advancement opportunities for countless numbers of service members. -- Lt. Gen. Dana T. Atkins, USAF (Ret), President and CEO, Military Officers of America Association (MOAA)
Bass's "Write to Influence " is an invaluable resource ... The process of drafting effective professional writing projects and then honing them to perfection has rarely been so inviting or presented with such clarity and enthusiasm. -- Booklife Prize
Write to Influence is a gem Anyone interested in powerful, super-charged writing will appreciate this clear discussion of how to produce attention-grabbing pieces -- D. Donovan, Senior Reviewer, Midwest Book Review
This book should be in every professional's library. I heartily recommend Write to Influence -- Baba Zipkin, Former Senior Counsel, IBM
Write to Influence will be my go-to-guide for many years to come. It is now a must-read reference for all my employees. -- Rick Mix, President and CEO, Cleared Solutions Inc.
This helped me pass my college classes Write to Influence is an amazing source if you want to improve your writing to earn higher grades 10/10 recommend -- Emily, Amazon Reviewer
Powerful writing changes lives It's also the lifeblood of successful organizations. It correlates directly to success -- personal and professional -- and often tips the balance between success and failure. With this book, make every second of the reader's time play to your advantage. Chose "Write to Influence " when persuasive writing is paramount to your goals. Learn to:
Write to win with products - clear, concise, and compelling
Extend your influence -- persuade others to support your cause
Generate powerful resumes and input to performance reviews
Compete well for contracts, grants, etc.
Defend budgets and justify additional resources
Compose polished, succinct, and effective email
Nail the essay for college applications
The second edition includes 70 new pages, incorporating material from Carla's highly acclaimed workshops given to government agencies, corporations, private businesses, NGOs, and academia.
From powerful writing to banish bureaucratic blather to composing resumes, input for performance reviews, presentations, elevator speeches, grant submissions, and essays for college applications ... this book covers it all.
Gatekeeper Press, 9780997593020, 374pp.
Publication Date: June 20, 2019