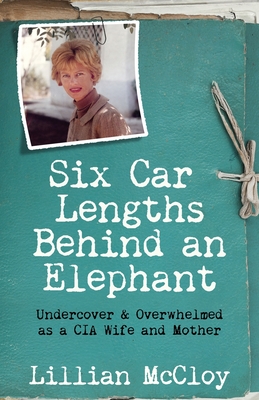 Six Car Lengths Behind an Elephant
Undercover & Overwhelmed as a CIA Wife and Mother
Paperback

* Individual store prices may vary.
Description
Imagine being married to a spy. Imagine keeping the big secret and moving your family from country to country to country. How does it all work? In this entertaining memoir, Lillian McCloy shares stories from her life as the wife of an undercover CIA officer. It's an eye-opening and often humorous tale about the CIA, marriage, family, secrets, friendships, international adventures, and the meaning of home.
"A charming and unusual portrait of the secret life." - JOHN LE CARRE , author of The Spy Who Came in from the Cold and Tinker Tailor Soldier Spy
"Lillian McCloy reveals the intrigue, danger, and humor of clandestine life in her thoroughly entertaining account of a CIA family's nomadic lifestyle. Few living in the U.S. will ever encounter the unique trials and tribulations of the McCloy family, but what a fascinating read it is " - ALAN B. TRABUE, CIA (Ret.), author of A Life of Lies and Spies
"If you're married to a spy, the always fraught arena of a relationship turns into a positive minefield. What does that all-night absence mean? What can you begin to say to the kids? Lillian McCloy gives us the story of a life spent around secret intelligence that is funny and charming and in every wonderful sense, deeply spooky." - PICO IYER, author of Video Night in Kathmandu and The Art of Stillness
Bordertown Publishing, 9780997596304, 252pp.
Publication Date: July 9, 2016