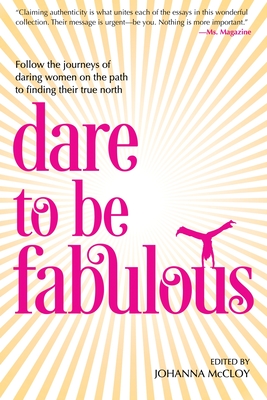 Dare to be Fabulous
Follow the journeys of daring women on the path to finding their true north
Paperback

* Individual store prices may vary.
Description
"This book holds together the power women find when they are honest and courageous and truthful. Some of these stories moved me to tears, others made me believe in humanity again, many I could identify with. This book brought me tremendous joy, insight and brought me back to believe in the human spirit."  JULIANNA MARGULIES, multiple award-winning actor and author of Sunshine Girl: An Unexpected Life
What does it mean to be fabulous? In this enthralling collection of essays, women from all walks of life explore what it takes to find our own true north, sharing personal stories of successes, mishaps, and often-hilarious surprises along the way.
Featuring tenacious mountain climbers, reluctant city drivers, unlikely CIA spies, courageous journalists, and heart-driven animal activists, Dare to be Fabulous invites readers on an inspiring journey of self-discovery and self-acceptance. Their stories will inspire you, warm your heart, and make you laugh.
Prompts are included after each story to help guide and encourage readers on the path to finding their own true north.
PERSONAL STORY CONTRIBUTORS:
Jenna Jolovitz / Wendy Tokuda / Elisabeth Sharp McKetta / Melissa Haynes / Rebecca Chamaa / Gloria Steinem / Pippy Longstalker / Lillian McCloy / Jo-Anne McArthur / Penny Ross Burk / Simon Chaitowitz / Terri Lyne Carrington / Alison Levine / Johanna McCloy / Alexandra Rushfield / Alcoholic Anonymous / Carter Helliwell / Michele Maggiora / Anna Elkins / Jill Robinson, MBE / Ilse Noir / Molly Caro May / Anne Singer / Kristin McCloy / Karen Wolf Schneider / Doris "Granny D" Haddock
Bordertown Publishing, 9780997596328, 194pp.
Publication Date: August 4, 2022