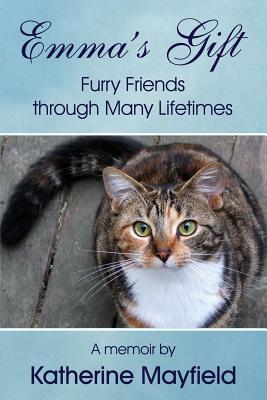 Emma's Gift
Furry Friends through Many Lifetimes
Paperback

* Individual store prices may vary.
Description
Do animals reincarnate in order to renew and strengthen the loving bond they have with their humans? This heartwarming memoir suggests that they do.
Emma's Gift: Furry Friends through Many Lifetimes, written by award-winning memoirist Katherine Mayfield, describes how the author's lifelong loving relationships with cats taught her to love herself after a difficult childhood, understand her deepest self, and reconnect with her soul and the energy of the Universe.
Raised in an unloving family where love and affection were lavished on cats, the author bonded with felines instead of people, and grew up with a sense of her truest self as a cat underneath the false self she developed to please her parents. Emma's Gift tells the story of how a close feline friend encouraged the author in her journey to uncover and nurture this tender, fierce aspect of her soul so she could step out from behind the mask and live more authentically.
Emma's Gift is a celebration of the soul connection between animals and humans--the eternal, loving bond that transcends the physical dimension. Packed with amazing insights about our current civilization and the human-animal bond, this heartwarming memoir will touch your heart and broaden your perspective on the nature of Life itself.
Essential Word, 9780997612165, 144pp.
Publication Date: October 12, 2018