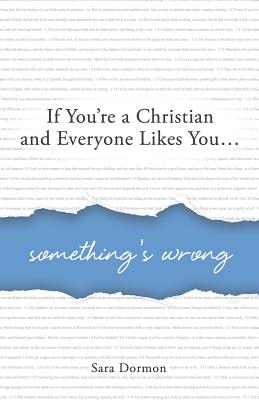 If You're a Christian and Everyone Likes You... Something's Wrong
Paperback

* Individual store prices may vary.
Description
Taking the words of Jesus seriously.
Today the Christian faith has not only come under attack, but many Christians themselves have become complacent and too willing to compromise their beliefs. Unfortunately Christians are known more for what they are against than what they are for.
"Sara Dormon strikes a blow for Biblical sanity in a culture gone mad. If you can read this book and not be challenged, convicted and inspired, something is wrong indeed." Christopher Smith - Broadway Composer and Playwright / "Amazing Grace"
"Sara has written an excellent book filled with practical and Biblical wisdom to help each of us as Christians 'stand out and stand up for Jesus.'" Clay & Renee Crosse - Clay Crosse Music/HolyHomes Ministries
"I absolutely love the candor of this book. I love each one of the ten commandments ...they are so important to the vitality and richness of our walk with Jesus. ... Thank you Sara for blessing us with your heart to encourage all of us who struggle with our day to day walk with Jesus." Jan Dravecky - Executive Director, Endurance with Jan & Dave Dravecky
Sara R. Dormon is an author, counselor, mother, advocate and Christian. She is known to tell it like it is and in her most recent book, "If You're a Christian and Everybody Likes You.... Something's Wrong" she offers readers a self-reflective journey on what it means to be a Christian in today's society. Sara is also the co-author of the book, "I'm Pregnant...Now What?" and "So You want to Adopt...Now What?" written with Ruth Graham and published by Regal Books.
Sara R Dormon, 9780997639605, 168pp.
Publication Date: May 24, 2016