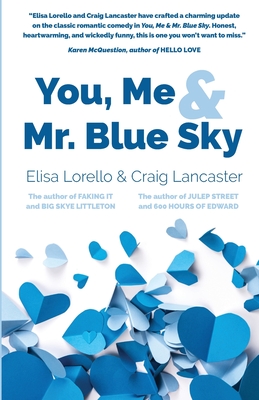 You, Me & Mr. Blue Sky
Paperback

* Individual store prices may vary.
Description
Is love a choice, or is it fate?

Jo-Jo Middlebury is done with love. Linus Travers wants one more shot at it. Mr. Blue Sky, their 1970s-loving guardian angel, offers perspective on both when he's not busy diving into reruns of "Happy Days" and "Barney Miller."

Linus can save Jo-Jo's business, but Jo-Jo makes it clear that she needs no one to rescue her, least of all him. Add to that an ex-fianc with a change of heart, a single mom who wants a good time, and a married couple who've blurred the boundaries of their respective friendships with Linus and Jo-Jo.

All the while, Mr. Blue Sky observes, explains, and ever-so-gently interacts.

Written by wife-husband novelists Elisa Lorello and Craig Lancaster, You, Me & Mr. Blue Sky is a warm-hearted, humorous dive into the depths of love and the mysteries of how two people find their way to each other.

PRAISE FOR YOU, ME & MR. BLUE SKY

"Authors Elisa Lorello and Craig Lancaster have crafted a charming update on the classic romantic comedy with You, Me & Mr. Blue Sky. Honest, heartwarming, and wickedly funny, this is one love story you won't want to miss."--Karen McQuestion, author of HELLO, LOVE

"A romance that proceeds as a wonderful argument between two people who need some divine intervention to knock sense into their heads. A fun read from two terrific authors."--Molly D. Campbell, two-time Erma Bombeck Prize winner and author of KEEP THE ENDS LOOSE and CROSSING THE STREET
Missouri Breaks Press, 9780997643336, 254pp.
Publication Date: January 27, 2019