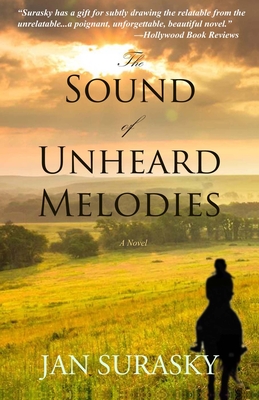 The Sound of Unheard Melodies
Paperback

* Individual store prices may vary.
Description
Lily Paxton is a child of the 1880s Oklahoma territories, born to a poor gypsy mother and a wealthy mine-owning father. She rides the prairies and the grasslands making friends with the foreman's son at her father's mine and a Native American boy she meets in the ancient Cross Timbers forest. But, when she reaches sixteen she is sent east to her father's wealthy family and a finishing school where she will prepare for courtship with wealthy young men or perhaps even a European noble. But, when a chance happening calls her back to Oklahoma she finds she must choose between a return to the east and a life of wealth and privilege or the hard life in a territory not yet a state. The choice she makes will not only determine her own future but will help to determine the fate of a very young nation.
Praise For The Sound of Unheard Melodies…
"Surasky has a gift for subtly drawing the relatable from the unrelatable...a poignant, unforgettable, beautiful novel."  —Hollywood Book Reviews

"A wonderfully engrossing novel...set in a world built with stunning authenticity."  —Pacific Book Review

"A front-row seat to the early days of the often inhospitable life in the Oklahoma territories…a wonderfully engrossing novel built with artful blending of historical facts, romance, creativity and well-devised characters…engaging literary fiction with a twist of history." —Lisa Brown-Gilbert, Pacific Book Review

"Surasky creates a poignant unforgettable story of life at the rise of the Gilded Age juxtaposed with the plight of the disadvantaged in the rugged territory of Oklahoma. Kudos to rising historical fiction author Surasky for producing a beautiful novel! " —Anita Lock, Hollywood Book Reviews
Sandalwood Press, 9780997652161, 325pp.
Publication Date: April 10, 2020
About the Author
Jan Surasky has worked as a book reviewer, movie reviewer and entertainment writer for a San Francisco daily newspaper. Her many articles and short stories have been published in national and regional magazines and newspapers. She has also taught writing at a literary center and a number of area colleges. Her novel Rage Against the Dying Light was an Eric Hoffer Book Award finalist for Fiction. Her novel Back to Jerusalem was the Eric Hoffer Book Award winner for Fiction and Grand Prize finalist and the Pacific Book Awards winner for New Fiction. Her novel The Lilac Bush is Blooming was the Pacific Book Awards winner for Fiction, a Hollywood Book Festival finalist for Fiction, and a San Francisco Book Festival finalist for Fiction. She lives in upstate New York.