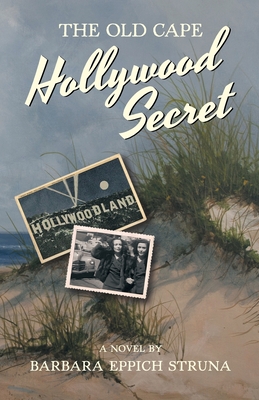 The Old Cape Hollywood Secret
Paperback

* Individual store prices may vary.
Description
In 1947, Maggie Foster and her cousin, Gertie, leave Cape Cod for Hollywoodland in search of glamour and fame. One girl returns home and the other disappears. Present-day Nancy Caldwell travels to Hollywood, where she discovers the paths of Maggie and Gertie.
In "The Old Cape Hollywood Secret," a novel of historical suspense, Nancy's curiosity gets her into trouble again. Along the way, a missing ring and a pearl-studded pouch are mixed in with the search. Using alternating chapters, across seventy years, the tragic stories of two young girls unfold and a murderous secret is uncovered.
Barbara Eppich Struna, author of "The Old Cape House" and "The Old Cape Teapot," had as much fun writing "The Old Cape Hollywood Secret", as she did researching the novel. The 1927 Pig & Whistle Pub and Grauman's Chinese Theatre, located on Hollywood Boulevard, are just a few of the famous landmarks featured in this historical adventure. Struna's present-day character, Nancy Caldwell, returns in the author's third novel set in Old Hollywood and on Cape Cod where she leads you on a journey filled with suspense and nostalgia.
"Nancy Caldwell is at it again. Her new adventure takes us from coast to coast and back in time. The story is ripe with Hollywood nostalgia and develops over decades, starting in 1947 and finally meshing in present time, with Nancy putting together pieces of an intriguing puzzle. There is plenty of romance, intrigue, murder and mystery.
A lover of old movies, I often watch Turner Classic Movies. While reading the chapters set in the old days, I could almost hear the TCM narrator describing the events of the story. If you like Barbara Eppich Struna's first two books in this series, you'll love this one. If you're new to her work, get started with The Old Cape Hollywood Secret. Bring some popcorn."
...Steven P. Marini, Author of Schmuel's Journey and Henniker Secrets.
##
"What starts off as a light and breezy caper, quickly turns into a dark and gripping thriller. The creepy villain, who has a taste for beautiful women and keeps a secret room lined with shoe-boxes by date and year, will keep you from sleeping until you finish "
...Popular Thriller Writer, Ray Anderson, Author of The Trail and Sierra
Bestrunabooks, 9780997656633, 296pp.
Publication Date: April 14, 2017