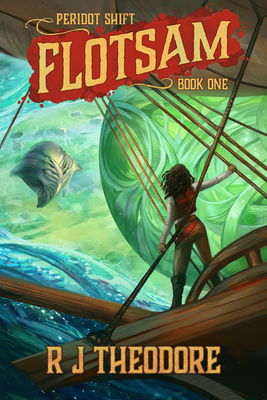 Flotsam
Peridot Shift: Book 1
Paperback

* Individual store prices may vary.
Description
Welcome to Peridot, where religion meets alchemy and the gods are not what they seem. Steampunk meets First Contact in this lush fantasy adventure novel.
Captain Talis just wants to keep her airship crew from starving, and maybe scrape up enough cash for some badly needed repairs. When an anonymous client offers a small fortune to root through a pile of atmospheric wreckage, it seems like an easy payday. The job yields an ancient ring, a forbidden secret, and a host of deadly enemies.
Now on the run from cultists with powerful allies, Talis needs to unload the ring as quickly as possible. Her desperate search for a buyer and the fallout from her discovery leads to a planetary battle between a secret society, alien forces, and even the gods themselves.
Talis and her crew have just one desperate chance to make things right before their potential big score destroys them all.
Parvus Press LLC, 9780997661378, 410pp.
Publication Date: March 27, 2018
About the Author
R J Theodore enjoys design, illustration, video games, reading, binging on media, and cooking. She is passionate about art and coffee, lives in New Fairfield, CT with her family, and co-hosts The Hybrid Author Podcast and writes non-fiction as Rekka Jay. Find her online at: rjtheodore.com.
or
Not Currently Available for Direct Purchase