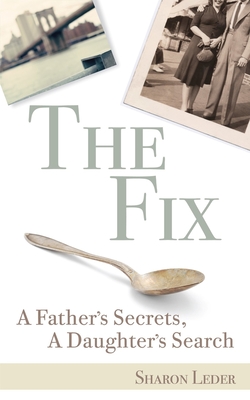 The Fix
A Father's Secrets, A Daughter's Search
Paperback

* Individual store prices may vary.
Description
"This remarkable book reminds us that even in the times of highest despair, we mustn't allow ourselves the comfort of being passive. " - AddictionBlog.org

Who is Josef Katz? The fun-loving, harmonica-playing dad Sara loves so much? Or the monster who abuses Sara's mother and locks himself in the bathroom, unable to beat his addiction?

Eight-year-old Sara Katz huddles under the covers, listening to her parents' muffled arguments and fighting the sleep that inevitably brings her bad dreams—dreams of her terrifying Shadow Father, a heroin addict.

Is my daddy not a good father? Is it my job to fix him?

As Josef's sickness worsens, young Sara is torn apart by her family's need to keep its "shame" a secret from its Jewish community in Brooklyn. Sara finds herself drawn to the liberation movements of the 1960s while feeling trapped in the darkness of her father's addiction and, ultimately, his untimely death.

Will Sara ever learn the truth about how her father became addicted and why he couldn't get well? How will she find her own identity if her family can't embrace its truth? And if Sara reveals her father's secret, will she find freedom—or destroy her family?

The author's proceeds from The Fix will benefit The Fix Fund, which was established to battle the addiction epidemic in the Cape Cod area.

"I read The Fix cover to cover and wept. I wept as the father of three wonderful daughters. I wept for the young man my older daughter is engaged to marry—a heroin addict in recovery. I wept as a Jew. I wept as a man and a husband. I wept as a politician who knows that between the cold statistics and policy debates about opiate addiction lie millions of personal tragedies about the devastating impact that this crisis is having on individuals, families, and our communities.... This is a remarkable book that touches us with despair while inspiring us to action." - Dan Wolf, Massachusetts State Senator


KiCam Projects, LLC, 9780997722253, 256pp.
Publication Date: May 16, 2017
About the Author
Sharon Leder taught English, women's studies, and Jewish studies on several campuses of the State University of New York before beginning the second half of her life as a fiction writer and poet. As a teacher, she wrote books and articles on women writers, on the literature of the Holocaust, and on women in academia. An earlier draft of her novel, "The Fix," was a finalist in Merrimack Media's Outstanding Writer Award (2015). Leder resides on Cape Cod with her husband, artist and author Milton Teichman, and together they run The Teichman Art Gallery. Sharon has been inspired by the writings of other Jewish authors such as Philip Roth, Sholem Aleichem, Anzia Yezierska, Johanna Kaplan, and Myla Goldberg.


or
Not Currently Available for Direct Purchase