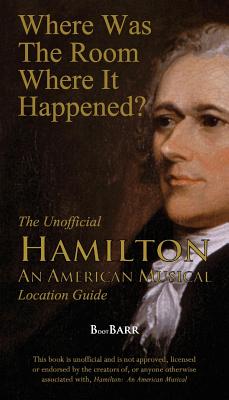 Where Was the Room Where It Happened?: The Unofficial Hamilton - An American Musical Location Guide (Paperback)
The Unofficial Hamilton - An American Musical Location Guide
Bryan Barreras, 9780997735901, 84pp.
Publication Date: June 24, 2016
Description
A great gift for any fan of the Broadway show Hamilton: An American Musical or its songs, or for anyone interested in Alexander Hamilton or Revolutionary-era history, regardless of whether they ever intend to visit New York.

Where Was the Room Where It Happened? is a collection of facts, anecdotes and trivia related to Hamilton and the life of Alexander Hamilton, presented through the locations where it all happened. This guide explains how locations from Alexander Hamilton's life are connected to the songs in the musical and provides historical information about each location. With suggested itineraries, maps and subway directions, this guide makes it fun and easy for all fans interested in learning about or seeing the room where it happened.
Praise For Where Was the Room Where It Happened?: The Unofficial Hamilton - An American Musical Location Guide…
RICHARD BROOKHISER, author of Alexander Hamilton, American: "Where was that room? This book will tell you–a sprightly, informative guided tour of the hit show, and founding era New York."

DOUGLAS HAMILTON, 5th great grandson of Alexander Hamilton: "This book wonderfully ties 'Hamilton' the musical to Hamilton the man…"

RAND SCHOLET, President & Founder of the Alexander Hamilton Awareness Society: "This well-researched book invites the reader to join Alexander Hamilton where it happened; to experience where he lived, learned, worked, fought, and found his final resting place. Author Bryan Barreras identifies the specific references from 'Hamilton' and accurately describes the highlights for each location, as well as the path to get there. Fans of the musical, as well as current and future Hamiltonians, will appreciate this invaluable location guide."
Advertisement