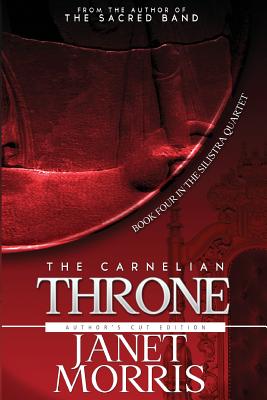 The Carnelian Throne
Paperback

* Individual store prices may vary.
Description
The Carnelian Throne is Volume 4 in Janet Morris' bestselling Silistra Quartet. Still controversial after five decades, this Perseid Press edition has been expanded and revised by the author. Estri is a god, daughter of light. Chayin is a god, son of darkness. Sereth is 'hase-enor, ' son of all flesh. Lovers and friends, could they be the prophesied three who would wield the Sword of Severance, Se'Keroth, and bring light out of dark? "One from the east, born of ease and destined; One from north of south, divine, exempt of question; The third from out the west, astride a tide of death," quoted Chayin. He was not smiling. It is a long epic. All has been foreseen. We all know that tale's end." -- Estri Hadrath diet Estrazi in Wind from the Abyss by Janet Morris ***** "Engrossing characters in a marvelous adventure." -- C. Brown, Locus Magazine ***** "The amazing and exotic adventures of the most beautiful courtesan in tomorrow's universe." -- Frederik Pohl ***** "The best single example of prostitution used in fantasy is in Janet Morris' Silistra series: High Couch of Silistra (originally entitled Returning Creation), The Golden Sword, Wind from the Abyss, and The Carnelian Throne." -- Anne K. Kaler, "The Picara: From Hera to Fantasy Heroine." ***** " ...] today I thought I'd look at one of the most successful fantasy debuts of all time, a series that became a huge international hit with its first release, launching the career of one of the most prolific fantasy writers of the late 20th Century: Janet Morris' The Silistra Quartet. The Silistra Quartet began with Janet's first novel, High Couch of Silistra ...] from Bantam Books in 1977 , ] the far-future tale of the colony planet of Silistra, still recovering from an ancient war that left the planet scarred and much of the population infertile. With a dangerously low birth-rate, it's not long before the human colonists of Silistra develop a new social order, with a hierarchy based on fertility and sexual prowess. "All told, there were four volumes in what came to be known as The Silistra Quartet ...]. "High Couch of Silistra (1977) ...] The Golden Sword (1977) Wind from the Abyss(1978) The Carnelian Throne (1979) -- John O'Neill in Black Gate Adventures in Fantasy Literature.
Perseid Press, 9780997758344, 312pp.
Publication Date: March 9, 2017