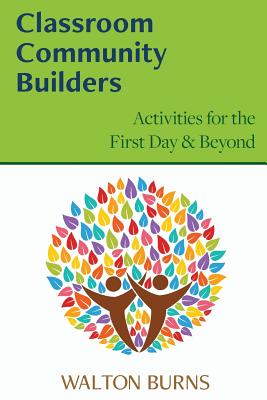 Classroom Community Builders
Paperback

* Individual store prices may vary.
Description
Students thrive in classrooms where they feel safe, welcome, and supported. Building a sense of community and teamwork is an effective means of facilitating student success.
Burns skillfully blends community-building activities with real classroom content, providing students with opportunities to practice language skills while acclimatizing to the classroom. While intended primarily for language arts and English as a second language classrooms, Burns's activities readily adapt to a range of disciplines and age groups.
Beginning with a section on setting classroom and instructor expectations, Burns moves on to team-building exercises focused on lesson content. His section on getting-to-know-you activities is designed to foster a sense of belonging, while the five get-to-know-your-teacher exercises introduce you to your students in a fun, relaxed manner.
Supported by information on material requirements, time limits, and resources, Classroom Community Builders provides handouts and worksheets, available both within the book and online, offering new ideas to experienced and novice instructors alike.
Alphabet Publishing, 9780997762877, 172pp.
Publication Date: July 18, 2017
About the Author
The senior editor at Alphabet Publishing, Walton Burns began teaching English in Vanuatu in the South Pacific. He has taught Russian oil executives, middle-school children, and Kazakh scholarship recipients. Burns began selling lesson plans and classroom activities in 2007. After placing third in the BESIG business lesson plan content and winning the monthly One Stop Lesson Share contest, he began working for the Nick Robinson Agency as well as independently. Since 2014, Burns has served on the leadership team of the Materials Writing Interest Section of the TESOL Association. He continues to publish his own lesson plans. His clients have included Oxford University Press, Macmillan, Pearson, Compass Publishing, 2LTI Testing, and New Horizons Language Schools. He is the author of 50 Activities for the First Day of School.