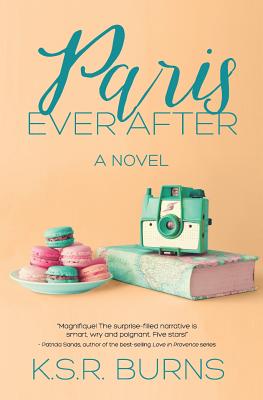 Paris Ever After (Paperback)
Velvet Morning Press, 9780997767650, 266pp.
Publication Date: April 24, 2018
Other Editions of This Title:
Paperback (4/29/2019)
* Individual store prices may vary.
Description
#1 Amazon Best-Selling Author in Women's Fiction
Can Amy's rocky start in Paris turn into a happy ever after? Amy didn't realize how stale her life was until she jetted off to Paris without telling a soul-not even her husband-and had the adventure of a lifetime. Now as she tries to establish herself in the City of Light, she finds that despite a fun (and quirky) group of friends and the ability to indulge in French pastries whenever she wants, reinventing her life is much harder than she imagined.
Then on Amy's thirtieth birthday, two unexpected visitors leave her wondering if she will soon be saying au revoir to Paris and the new life she's struggled to build. Her estranged husband, Will, shows up-but is he interested in reconciliation or separation? And a young woman who arrives on Amy's doorstep unleashes chaos that could push Amy out into the street.
Amid secrets and surprises, set in enchanting gardens, cozy caf's, and glittering Parisian streets, Amy must choose between two very different worlds. And each has a claim on her heart.
As Amy's Parisian dream starts to fall apart, she must decide: return to the stability of Will and Phoenix (if that's even still an option) or forge her way forward in Paris?
"Magnifique The surprise-filled narrative is smart, wry and poignant. Five stars " - Patricia Sands, author of the best-selling Love in Provence series
"An entertaining read for Francophiles, foodies, and romantics." - Kirkus Reviews, Best Indie Book July 2018
Book club discussion guide included.
Interview with the Author
Paris Ever After is a standalone sequel to The Paris Effect. So I don't need to read The Paris Effect first?
Each book can be enjoyed on its own, but like a caf cr me and macaron, they go great together. Both stories take you on a journey through Amy's Paris, a Paris few casual tourists ever see. But each story has its own surprising, often unpredictable path of self-discovery as Amy struggles to confront the challenges being thrown at her.
What inspired you to write the book?
Readers made me write it I was privileged to be invited to more than a dozen book clubs that had read The Paris Effect, and it was unanimous: People really wanted to know what happened next. Their questions got me thinking, one idea led to another, and voil , a new book was born. And spending more (virtual) time in Paris was not exactly a hardship. The next best thing to being in Paris is writing-or reading-about it
I love books about Paris Will I like this one?
I believe so But this isn't your typical Paris novel. It has touches of chick lit but at its core it's women's fiction: Amy must determine "the right thing" and find the courage to do it. She's pushed and pulled by the other people in her life, and by her own passions and compunctions, but in the end the decision is all hers. You could also say it's a love story-Amy's love for her new friend Margaret, for her best (and lost) friend Kat, for her husband (in spite of all that's happened between them), for her unborn child, for Paris, and a new love.
Many books have been written about Paris. What sets yours apart?
Who doesn't like a Paris love story? Paris is the ultimate dream destination, and it's truly as beautiful and romantic as it's cracked up to be But as Amy learns, it's also a multilingual, multinational metropolis of street hustlers, diesel fumes, and pickpockets. Throughout both books, Amy gets to know the real Paris. And so will you. Thanks for reading
About the Author
K. S. R. Burns is an Amazon best-selling author who lived and worked in four countries and 22 cities, including Paris, before settling down in the wilds of the Pacific Northwest. She has written two novels, the best-selling The Paris Effect (optioned for film and TV by Papazian-Hirsch Entertainment) and its standalone follow-up, Paris Ever After. She's also the author and illustrator of The Amazing Adventures of Working Girl: Real-life Career Advice You Can Actually Use, as well as a career-advice weekly columnist for The Seattle Times. She can be found online at KSRBurns.com.
or
Not Currently Available for Direct Purchase