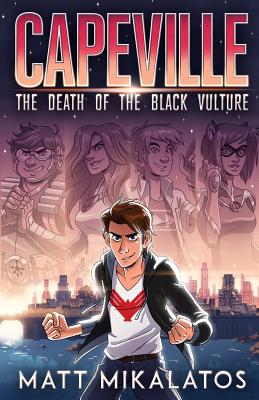 Capeville
The Death of the Black Vulture
Paperback

* Individual store prices may vary.
Description
Psycho mass murderers can wreck your summer so fast.

John Ajax planned to spend every sun-filled summer day playing Tread
Battalion 2 with his friends. Then a super-powered goon tried to
kidnap him, and his parents freaked out and sent him to "hide" in
Capeville... a city populated entirely with superheroes and villains.

It might be okay if he could fly, or shoot laser beams out of his
eyes, or crush a brick in his bare hands. Instead he has a
drill-sergeant grandfather, a crush on his boss (Jupiter Girl, a
flying, brick-crushing, psychic powerhouse. No laser eyes.) and a
best friend with speedster powers and poor impulse control.

To make matters worse, the aforementioned psycho mass murderer is
trying to kill every super-powered person in the city. If that happens
John will lose his job, the respect of Jupiter Girl, and his best
friend, too. So mass murder, that's where John plans to draw the line.
He may not be able to leap tall buildings in a single bound, but
maybe, just maybe, John can still be a hero.

"This novel of young superheroes hits all the right notes, from the
uncertainty and thrill of a first crush to the frustrating realization
that the world may not welcome who you are and what you want your
life to be. But, more than anything, it is a delightful roller
coaster ride of action and adventure."

-- Jake Kerr, Nebula-nominated author of the Tommy Black series

"Matt Mikalatos's latest book is energetic and fun-filled with
creative heroes and enough adventure to keep you reading late into the
night and hints at future epic stories to come. So strap on your cape
and hit the streets Capeville is one story you don't want to miss "

-- John Otte, author of the Failstate series

Sign up for the Capeville newsletter email at bit.ly/capeville
Pulp Hero Books, 9780997769906, 306pp.
Publication Date: August 31, 2016