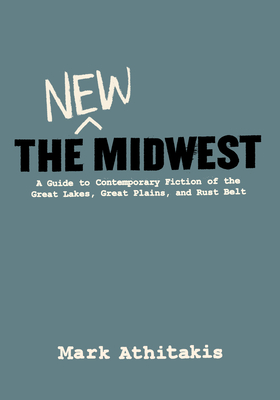 The New Midwest
A Guide to Contemporary Fiction of the Great Lakes, Great Plains, and Rust Belt
Paperback

* Individual store prices may vary.
Description
In the public imagination, Midwestern literature has not evolved far beyond heartland laborers and hardscrabble immigrants of a century past. But as the region has changed, so, in many ways, has its fiction. In this book, the author explores how shifts in work, class, place, race, and culture has been reflected or ignored by novelists and short story writers. From Marilynne Robinson to Leon Forrest, Toni Morrison to Aleksandar Hemon, Bonnie Jo Campbell to Stewart O'Nan this book is a call to rethink the way we conceive Midwestern fiction, and one that is sure to prompt some new must-have additions to every reading list.
Praise For The New Midwest: A Guide to Contemporary Fiction of the Great Lakes, Great Plains, and Rust Belt…
"A good work of fiction can help you see the world differently. A good work of criticism can help you see a good book differently, which, in turn, alters the world again ... Using the lens of novels and short stories published over the past 30 or so years, Athitakis seeks to illuminate the ways we still lean on literary mythology of the Midwest when it comes to defining the region."  — Chicago Tribune

"Readers may cavil with Athitakis' choices, but they can't question his research, erudition, and clarity of expression."  — Kirkus Reviews

"[In The New Midwest] Athitakis' selections are sharp, and his close-readings succinct, and his wrangling of these many works and many subjects into conversation is as necessary as it is daunting ... At its best, the book is an illustrative and auxiliary text to anyone seeking a better comprehension of the Midwest, its history, the ongoing cultural discourses surrounding it and, of course, the discourse surrounding the stories the region tells and the stories we tell about it."  — The New Territory

"The New Midwest is a crisp, engaging tip sheet and guide for further reading."  — Milwaukee Journal-Sentinal

"In The New Midwest, [Athitakis] attempts to illustrate the variations within the region's literature in just under 100 pages. He delves into how writers have yet to really interrogate the region's modern-day relationship with issues surrounding social class, place, and race."  — Lit Hub

"Athitakis parses how the best Midwestern fiction punctures the region's superficially comforting image and re-examines its past to uncover a less idyllic, more troubled history."  — Huffington Post

"[The New Midwest] rightly praises the Midwestern novels of Marilynne Robinson, Jeffrey Eugenides, Toni Morrison and Jonathan Franzen, but also points out works of comparable merit that warrant rediscovery."  — Washington Post
Belt Publishing, 9780997774283, 96pp.
Publication Date: February 6, 2017
About the Author
Mark Athitakis serves on the board of the National Book Critics Circle and writes the Reading the Midwest column for Belt Magazine. He has been published in Barnes and Noble Review, Chicago Sun-Times, New York Times Book Review, Washington Post Book World, and many other outlets. He lives in Phoenix, Arizona.