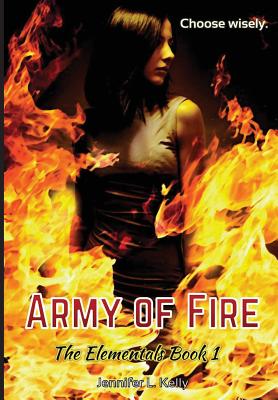 Army of Fire (Hardcover)
The Elementals Book 1
Jennifer L. Kelly, 9780997776416, 326pp.
Publication Date: August 18, 2016
Other Editions of This Title:
Paperback (9/27/2016)
* Individual store prices may vary.
Description
Ka Waylon is just an ordinary girl living on Xon 9--a planet inhabited by those chosen to propagate the human species after the sun dies. Xon 9 is similar to Earth with its silvery vegetation, underground water stores, red sun and two moons; but there's one significant difference. Over time the superfluous elements of Xon 9 began to have a physiological effect on its inhabitants. In order to better harness the powers of each element, upon graduation each student must pronounce an Elemental. Earth: wise and steadfast Wood: solid and intellectual Fire: passionate and impulsive Water: nurturing and loyal Metal: tactical and explosive The choice is one that will change her life forever and one that can never be undone. After being initiated into Fire, Ka soon learns about the dark side of life on Xon 9. The Imminent Darkness is rising to power, planning to overthrow the Leadership Council. According to legend, the Imminent Darkness can only be stopped by the Impossible Girl: She who is all possibilities yet impossible. With her best friends at her side, and the mysterious Teacher 4 watching her every move, Ka must choose: follow your head or follow your heart.