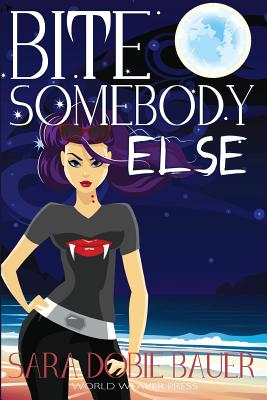 Bite Somebody Else
Paperback

* Individual store prices may vary.
Description
Imogene helped her newbie vampire friend Celia hook up with an adorable human, but now Celia has dropped an atomic bomb of surprise: she has a possibly blood-sucking baby on the way. Imogene is not pleased, especially when a mysterious, ancient, and annoyingly gorgeous vampire historian shows up to monitor Celia's unprecedented pregnancy.
Lord Nicholas Christopher Cuthbert III is everything Imogene hates: posh, mannerly, and totally uninterested in her. Plus, she thinks he's hiding something. So what if he smells like a fresh garden and looks like a rich boarding school kid just begging to be debauched? Imogene has self-control. Or something.
As Celia's pregnancy progresses at a freakishly fast pace, Imogene and Nicholas play an ever-escalating game of will they or won't they, until his sexy maker shows up on Admiral Key, forcing Nicholas to reveal his true intentions toward Celia's soon-to-arrive infant.
"Raunchy and irreverent, Bite Somebody Else is a vampire romp oozing with sexual tension and laugh-out-loud surprises. Crank up some '80s music, sip a rum punch, and start reading " - Beth Cato, author of the Clockwork Dagger and Blood of Earth series.
World Weaver Press, 9780997788891, 294pp.
Publication Date: June 2, 2017
About the Author
Sara Dobie Bauer is a writer, model, and mental health advocate with a creative writing degree from Ohio University. Her short story, "Don't Ball the Boss," was nominated for the Pushcart Prize, inspired by her shameless crush on Benedict Cumberbatch. She lives with her hottie husband and two precious pups in Northeast Ohio, although she'd really like to live in a Tim Burton film. She is a member of RWA and author of the paranormal rom-com Bite Somebody, among other ridiculously entertaining things. Read more at http: //SaraDobieBauer.com or find her on Twitter @SaraDobie