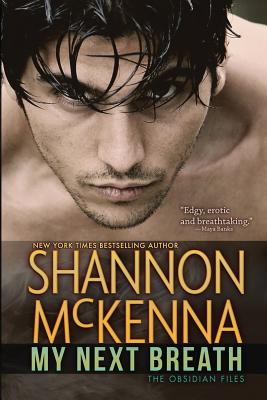 My Next Breath (Paperback)
Shannon McKenna, 9780997794120, 252pp.
Publication Date: August 4, 2017
* Individual store prices may vary.
Description
Zade Ryan. Rebel supersoldier. Nearly superhuman. On a desperate quest to rescue his missing brother Luke by any means possible. To do it, he must seduce the elusive Simone Brightman, inventor of the ingenious and deadly tech used to capture Luke and hold him prisoner, location unknown. Zade will do whatever it takes to get close to Simone. Her mysterious beauty and highly sexual allure have him at a disadvantage, but time is running out ... Simone is fighting battles of her own, on her own. Until Zade.
About the Author
Shannon McKenna is the New York Times bestselling author of fifteen action packed, turbocharged romantic thrillers. She loves tough and heroic alpha males, heroines with the brains and guts to match them, villains who challenge them to their utmost, adventure, scorching sensuality, and most of all, the redemptive power of true love. Since she was small she has loved abandoning herself to the magic of a good book, and her fond childhood fantasy was that writing would be just like that but with the added benefit of being able to take credit for the story at the end. The alchemy of writing turned out to be messier than she'd ever dreamed, but what the hell, she loves it anyway and hopes that readers enjoy the results of her experiments. She loves to hear from her readers. Contact her at her website, http: //shannonmckenna.com, find her on Facebook at https: //www.facebook.com/AuthorShannonMckenna/ to keep up with all her new