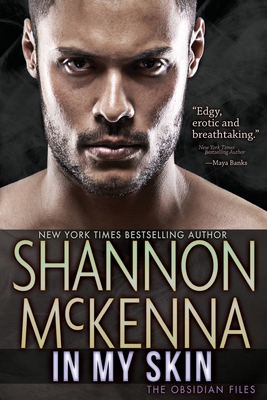 In My Skin
Paperback

* Individual store prices may vary.
Description
Come back to me... Luke remembers a few things. Just not his last name, or anyone he ever knew. He knows that he's a supersoldier, genetically enhanced and loaded up with brain implants. He just escaped from a year-long hell of captivity, and to protect his family and friends from his tormentors, he blocked his memories. Now he needs those memories back, fast...or he and those he loves will die agonizing deaths. Luke's dangerous plan to reconnect with his past-and stay alive in the present-has drawn his enemies' attention to the tough and sexy Dani LaSalle. He's duty bound to protect the luscious beauty from the evil pursuing them, but he can't control the scorching desire she awakens in him. Dani's strict routine has been trashed by Luke's explosive arrival. This rock-hard slab of valiant, smoldering manhood appears out of nowhere, saves her life, spirits her away to his mountain lair and bewilders her with tales of sadistic researchers, enhanced assassins. Is this gorgeous, problematic sex god just plain crazy-or is she? But Luke can do things with his mind that are just as wild as what he can do with that body...and she can't say no. And there's no time to wonder. As their passion burns hotter, Obsidian moves closer...and Luke and Dani must place their lives and their hearts on the line just to survive...
Shannon McKenna, 9780997794144, 238pp.
Publication Date: June 17, 2018
About the Author
Shannon McKenna is the NYT bestselling author of seventeen action packed, turbocharged romantic thrillers, among which are the stories of the wildly popular McCloud series and her scorching new series, The Obsidian Files-rip-roaring romantic suspense with a sci-fi twist. She loves tough and heroic alpha males, heroines with the brains and guts to match them, villains who challenge them to their utmost, adventure, scorching sensuality, and most of all, the redemptive power of true love. Since she was small she has loved abandoning herself to the magic of a good book, and her fond childhood fantasy was that writing would be just like that, but with the added benefit of being able to take credit for the story at the end. Alas, the alchemy of writing turned out to be messier than she'd ever dreamed. But what the hell, she loves it anyway, and hopes that readers enjoy the results of her alchemical experiments. She loves to hear from her readers. Contact her at her website, shannonmckenna.com.