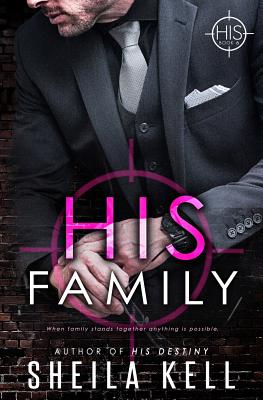 His Family
Paperback

* Individual store prices may vary.
Description
Romantic Suspense BEST-SELLING Author: What happens when a man used to being in control has to call in his family to rescue the woman he loves? In Sheila Kell's novella of danger and desire, a charismatic U.S. Senator and an assertive CEO are connected by the love they share. A love about to be ripped out from beneath them.
When family stands together anything is possible.
Senator Blake Hamilton has finally found love--only to have the woman who's unraveled him snatched away in a home invasion. By the time his family arrives, he's ready to find Elizabeth and make her his--if she'll have him.
As he suits up to rescue her, Blake debates the danger he's putting his sons' lives in. But if he doesn't, he may never see Elizabeth again. With tough decisions to make and a battle of wills, Blake has to decide how much he'll risk to free the woman who has captured his heart.
***
HIS FAMILY is book six in the HIS romantic suspense series. If you like thrilling, edge of your seat reading with sizzling sex scenes, then you'll love each installment of Sheila Kell's best-selling series.
Pick up your copy of HIS FAMILY to meet the hot-bodied men of HIS today *Want the ebook for free? Newsletter subscribers get to read it at no charge. Sign up here: http: //www.SheilaKell/subscribe/
Hamilton Investigation & Security: HIS series
Books do not have to be read in order, but you'll get the whole picture if you do
HIS DESIRE (Jesse & Kate) FREE
HIS CHOICE (AJ & Megan)
HIS RETURN (Jake & Emily)
HIS CHANCE (Devon & Rylee)
HIS DESTINY (Trent & Kelly)
HIS FAMILY* (Blake & Elizabeth) Novella
HIS HEART (Matt & Caitlyn)
Praise for Sheila Kell
"Sheila Kell is a mistress of the genre..." - Readers' Favorite
"One thing is for sure, Sheila Kell has solidly landed herself on my One-Click-Addiction List with this group." - BookwormBetties
"Sheila Kell is a great author. She writes a great story with fantastic characters that draw you in and make you feel for the characters and what they are going through." - Steamy Book Momma
"Wow can it get any better? Well true to Sheila's style, Yes, yes it can get better." - The Book Fairy Reviews
Cunningham Publishing, 9780997848984, 170pp.
Publication Date: July 4, 2017