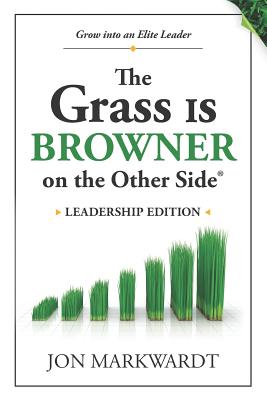 The Grass Is Browner on the Other Side Leadership Edition (Paperback)
Grow Into an Elite Leader
Knight Business Press, 9780997858037, 248pp.
Publication Date: October 16, 2018
* Individual store prices may vary.
Description
No one is born a leader. They grow from their commitment to education and advancement. But the endless library of leadership books supplies countless directions to perform among the elite. Subsequent to his book on sales and extending his series, The Grass Is Browner on the Other Side, Jon Markwardt provides a direct approach on elite leadership. Summarized in a simple graphic, Markwardt's Wheel of Leadership narrates his story to detail, exactly, what is required to raise your team to the top of the mountain. Simply by reading and understanding the Leadership Wheel, you will finally know what it takes to manage a dominant team. Implementing these elite practices will provide recognition, greater income and positively affect the lives of those you manage. Whether you're reading this book to expand your leadership presence or develop one, you'll have a front-row seat to Jon's voyage. Join him as he travels through twelve countries, interviews three elite leaders and meets his future wife along the way. Captivating stories, travel analogies and proven business concepts combine to create a guidebook to leadership that is both informative and entertaining.