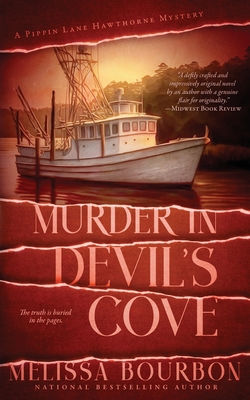 Murder in Devil's Cove
Paperback

* Individual store prices may vary.
Description
"...a deftly crafted and impressively original novel by an author with a genuine flair for originality...certain to be an unusual, immediate and enduringly popular addition to community library Mystery/Suspense collections..." Midwest Book Review*
Cradled in the waters between North Carolina's Outer Banks and the mainland is the island of Devil's Cove, the town where Pippin Lane Hawthorne was born. After the death of her mother-and twenty years after being abandoned by her father-Pippin and her twin brother, Grey, are back. Inheriting their parents' old beach house on Rum Runner's Lane is like a strong wind at their back, pushing them to safe ground. They are home at last.
But what was supposed to be a chance at a new life turns sinister when her father's old fishing boat reveals a dark secret. As the truth about what really happened to Leo Hawthorne unspools, Pippin realizes that an ancient curse her parents fought to break has found her.
Now Pippin must embrace her fate as a bibliomancer and learn how to 'read' the books she's always shied away from. Only then will she be able to discover the truth about what really happened to her parents and continue their efforts to break the curse that has haunted the Lane family for two thousand years.
"A magical blend of books, mystery, and smart sleuthing, Melissa Bourbon's Murder in Devil's Cove offers mystery readers everything they crave and stands out in the crowded cozy genre. This captivating new series will leave readers spellbound."-NYT and USA bestselling author, Ellery Adams
Melissa Bourbon Ramirez, 9780997866117, 316pp.
Publication Date: September 22, 2020