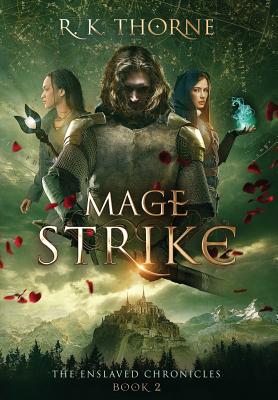 Mage Strike (Enslaved Chronicles #2)
Hardcover

* Individual store prices may vary.
Other Editions of This Title:
Paperback (11/16/2017)
Description
The fight for freedom begins.
The hard part should have been over. Former slave Miara and Crown Prince Aven have escaped with their freedom and their lives. From kidnapper and captive, they've grown into a powerful partnership. And they've returned to the mountain fortress of Estun, triumphant, to warn his people of the rising menace just across their border.
But escape was only the first step. War looms. Hundreds of mages still live in slavery. Neither the king nor the queen believes the people will support a foreign spy as crown princess, no matter how loyal Miara truly is. And enemy agents plot to keep Aven from the throne by any means necessary, be they mundane--or murderous.
On top of it all, the Dark Master has plans of his own: to enslave a vast mage army bound to his will alone. To obliterate all knowledge of the forbidden star magic, no matter the cost. And to get a little revenge too, while he's at it.
Powerful new enemies, tenacious new allies, and earth-shaking magic join Aven and Miara in this second volume of the Enslaved Chronicles.
Iron Antler Books, 9780997889932, 406pp.
Publication Date: January 6, 2017