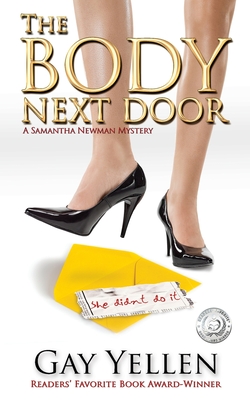 The Body Next Door (Samantha Newman Mystery #2) (Paperback)
Gydr Press, 9780997891508, 286pp.
Publication Date: November 11, 2016
* Individual store prices may vary.
Description
In this award-winning, heartfelt and humorous mystery, Samantha Newman is in desperate need of a new job, a place of her own, and a second chance at her rocky romance with cyber-expert Carter Chapman. Now there's a dead man next door, and his wife is holed up in the apartment where Samantha is staying. Dragged into the incriminating murder investigation, Samantha catches the attention of a suspicious homicide detective. To make matters worse, a mysterious stalker is haunting her balcony. Could it be the real killer?
The investigation thwarts Samantha's chance at a new television career and instigates a fresh conflict with Carter. Sifting through conflicting theories posed by the aggressive detective, an overbearing defense attorney, and a nosy neighbor, she's confronted with more than one alarming reality. Stymied by fear and uncertainty, she begins to question the assumptions she's made about her past and her future as she navigates a minefield of secrets to redeem her reputation and reclaim the life she wants to live.
A luxury high-rise condominium in the bustling city of Houston, and a ranch in the nearby HIll Country of Central Texas provide the main settings for Samantha's attempts to discover what really happened next door.
Awards
Finalist, Writers League of Texas (Manuscript 2016)
FIRST PLACE, 2017 Chanticleer Mystery & Mayhem