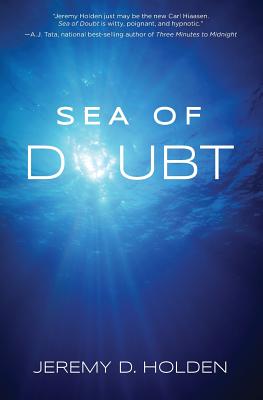 Sea of Doubt
The Greatest Story Ever Sold
Paperback

* Individual store prices may vary.
Description
After leaving behind a brilliant, but emotionally exhausting career in advertising, Mal Thomas wants nothing more than to enjoy the peace and serenity of the home he and his wife share in the Blue Ridge Mountains of North Carolina. That serenity is interrupted when, seemingly out of nowhere, Mal gets a call that pulls him back into his old world, and on a path to undertaking an extraordinary assignment: Alfredo Baptiste, the world's most powerful and mysterious industrialist wants Mal to promote the alleged second coming of the Messiah. As Mal and his team of cynical "Mad" men and women confront their own doubts about the validity of Baptiste's seemingly ridiculous claim that his adopted son Sebastian is this new Messiah, they can't resist the challenge, and find themselves thrust into a world of greed and revenge. In a fast moving and often sardonic narrative that crisscrosses New York, North Carolina, Miami, and Buenos Aires, Sea of Doubt has its roots in our endless obsession with fame and pop-culture. As Mal's team develops an unstoppable global campaign, a worldwide media feeding frenzy ensues, causing people to set aside all logic and reason, leading to tragic consequences. Baptiste's motivation is ultimately revealed in a twisted and unexpected ending as parallel worlds and a seismic conspiracy explode in an ending that will make you wonder how you didn't see it coming earlier. Sea of Doubt provides a window into human nature and media driven mass persuasion, forcing us to look at consequences of the choices we make. Ultimately Holden shows us how belief in ourselves is what really matters. You will laugh out loud at the absurdity of the challenges that Mal and his team find themselves confronted with, while at the same time being forced to examine the role we all play in enabling the media to shape our thinking, and dictate our lives.
Clean Publishing, 9780997897005, 250pp.
Publication Date: October 3, 2016
About the Author
Jeremy Holden is an award winning creative professional and accomplished writer and thinker with ties to both sides of the Atlantic. He received dual degrees in communications and law from The University of the West of England, giving him a distinctive right and left brain approach to business and life-and to his writing. Jeremy relocated to the United States in 1995, where he met his future wife, and became a citizen. Jeremy has worked for some of the best known advertising agencies in the world, including Publicis Worldwide, where he ran strategy for North America from their New York offices. During his career he has won most of the industry's top awards including the prestigious "Gold Effie", the advertising industry's Golden Globe. Jeremy has counseled some of the world's most recognized names and helped them tell their stories: Citi Group, Proctor & Gamble, Audi of America, NASDAQ, and many others. His experience is integrated into, and integral to The Doubter. Jeremy is a popular speaker and facilitator, and has run client workshops in tandem with fellow authors Malcolm Gladwell and Professor Dan Ariely. His first non-fiction book, Second That Emotion: How Decisions, Trends, and Movements Are Shaped (Prometheus Books, 2012), explores how movements are created in the political, cultural and commercial realms. As a result, he received coverage in Fast Company and Huff Post, and appeared on CNN and NPR.
or
Not Currently Available for Direct Purchase