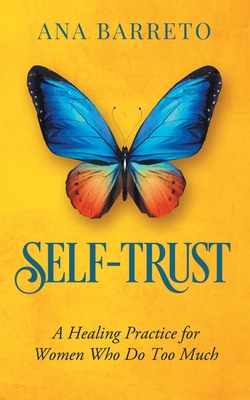 Self-Trust
A Healing Practice for Women Who Do Too Much
Paperback

* Individual store prices may vary.
Description
Discover the Ultimate Self-help Book in Reclaiming Your Power As A Woman
Would you like to:
Rebuild your self-esteem?
Establish self-love?
Foster personal growth?
Being a woman in this highly male-dominated world is exhausting.
It's because women like you devote a lot of time and energy in maintaining relationships with others. You fulfill so many roles daily, it's easy for you to lose yourselves in the process.
This is a problem that many women like you face today. You lose yourselves in the roles and responsibilities that you fulfill.
You constantly give so much of yourself that you easily become emotionally exhausted and burnt-out. You start losing time for yourself, then your self-esteem slowly shrinks.
As a woman, you need to learn to love yourself and reclaim your power of being a woman. You need to learn to give yourself time to heal so you can grow as a person.
Luckily for you, this "Self-Trust" book is the ultimate self-help book for struggling women like you. This book provides you with a reset button to restart your life and rebuild your self-esteem.
This beautifully crafted book teaches you the ways to manifest self-love so you can foster personal growth.
Here's what you'll get from this book:
Change Your Mindset: Learn how to change your perspective on life and how you see yourself to re-evaluate your personal goals.
Sustaining Changes: Know how to effectively transform yourself and sustain the changes so you can ultimately become the best version of yourself.
Spiritual Practices: Learn how to heal your body and mind with the different spiritual practices provided to reduce stress and improve your quality of life.
And so much more...
Reclaim your power and regain your self-confidence
With this self-help book, you will learn how to create good habits and produce good thoughts to improve the quality of your life
Scroll up, click on "Buy Now with 1-Click", and Get Your Copy Now
.
What readers are saying::
"Amazingly insightful and inspiring." .
"...lovely, filled with beautiful and practical teachings, and for sure the Universe sent you to teach me." .
"A gem that I discovered while reading her book... A moving and inspirational read "
Blue Hudson Group, 9780997900668, 234pp.
Publication Date: January 3, 2020