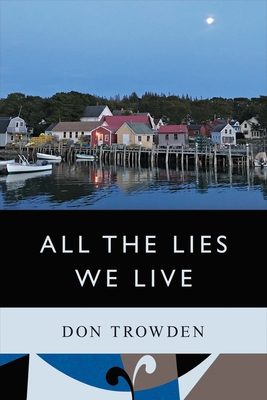 All the Lies We Live (Normal Family Trilogy #3)
Paperback

* Individual store prices may vary.
Description
This exciting conclusion to the Normal Family Trilogy opens on a remote Maine island, with a hurricane looming, as Henry Pendergast and family gather to celebrate his 80th birthday.

Henry and his sister Lucy have overcome many hurdles over the years. Each has broken free to create a healthy adult life, in a remarkable display of perseverance. All the Lies We Live brings together Henry, Lucy, Chloé, their distant cousin Sasha, plus Henry's former therapist Jim Williams. We see that Chloé is a tragic character, who needs help to find love again. Love arrives toward the end of her life in the most unexpected of places, with the appearance of the charming local lobsterman, Wilbur Warren.

Henry and his grandson, Lakshmi, share a special love that harkens back to the innocence of Henry as a child and his relationship with his grandfather, George. A hurricane threatens to ruin Henry's island celebration, as well as his relationship with Lakshmi. Will there be yet more family tragedy at novel's end, as seen in the first two volumes? Or will Henry overcome the setbacks that have wounded him for much of his life and achieve his own dreams?

The concluding volume of the trilogy is funny, sad, and filled with the beautiful scenery of a remote island off the coast of Maine. The theme throughout is redemption through love. Nature is a constant backdrop and serves as the central metaphor for the trilogy: that all life is a series of beginnings and endings, a perfectly architected cycle, as seen in the trilogy's own structure.

The three volumes of The Normal Family Trilogy in sequence are: Normal Family, No One Ran to the Altar, and All the Lies We Live. They cover in order: youth, adulthood, and old age.
BookBaby, 9780997913736, 258pp.
Publication Date: March 8, 2018
About the Author
Don Trowden is the author of Normal Family (2012), No One Ran to the Altar (2016), and All the Lies We Live (2018), collectively comprising The Normal Family Trilogy. Don Trowden is the pen name for Caleb Mason, who is the author of The Isles of Shoals Remembered (1992), which Allen Lacy of The New York Times said: "provides a fascinating look at an important time period in American arts."
or
Not Currently Available for Direct Purchase