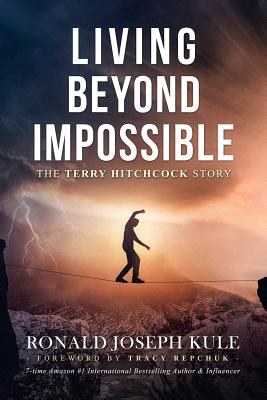 Living Beyond Impossible
The Terry Hitchcock Story
Paperback

* Individual store prices may vary.
Description
Living Beyond Impossible The Terry Hitchcock Story, foreword by Tracy Repchuk, seven-time, international best-selling author and LinkedIn Influencer, chronicles the life of a humble, God-fearing boy's childhood survival of kidnapping, homelessness, and gang-life. As a USAF veteran, "Terry" could throw fast, accurate baseballs and rouse collegiate groupies and crowds of vacationers with his hijinks and saxophone. As a management executive for large, well-known corporations (GM, G+W, and The Coca-Cola Company) he inspired and motivated management and employees of all stripes and colors to respect each other whether in factories or boardrooms.
He married "The One" out of college, but when cancer took his wife, his job, and his lifestyle, he manned up and learned to raise three small children alone, keeping them safe and warm under one roof. He shifted to entrepreneurship to support his family and consulted 84 corporations, raising over $100 million for startups and receiving recognition and awards from two U.S. Presidents, Bill Clinton, and Ronald Reagan. Wishing to focus media attention to the plight of single-parented children everywhere, in 1996, at 57 years and after experiencing a recent heart-attack, he ran the distance of 75 marathons in 75 consecutive days - a feat his doctor admonished him not to attempt: "Terry, you will kill yourself if you do this." (To which Terry retorted, "Doc, I may kill myself doing this but I don't think I will.")
Terry captured media attention in several countries. He also won the hearts of tens of millions of all ages in 27 countries as he ran, inspiring (the late) filmmaker Tim VandeSteeg to produce and direct a documentary film MY RUN narrated by Academy Award winner Billy Bob Thornton, which won numerous awards and accolades and 11 of 15 film festivals screened. Both Terry's book, A Father's Odyssey, and the film won five-star Dove Awards and earned Terry more than 62 million internet impressions - a number that has continued to expand.
Today, Hollywood's Destiny Pictures is producing a feature film that is currently in pre-production. Several A-list actors have indicated their strong interest for involvement in the project.
This well-written, inspirational biography with over 50 photos reveals Terry's humble, Vermonter beginnings and teaches readers not only what, how and why Terry survived adversities others never faced, including the 2,000+ miles of The Run, but also his "Ultimate Dream" and how THEY might participate to help make it come true ... because, in the words of Terry's grandfather Harvey Bolton, "Nothing is impossible. Never give up on your dreams " And that is the message Terry has delivered to thousands through keynote engagements and media appearances.
The biography is 350 pages, 6 X 9, softcover. There will be ebook and audiobook editions, as well as foreign-language editions.
Both Terry and the author Ronald Joseph Kule will be available for book-signing events and media appearances, and they are experienced at these. Kule is also the author of the book, CHEF TELL The Biography of America's Pioneer TV Showman Chef, forewords by TV hosts Regis Philbin and Chef Walter Staib, (Skyhorse Publishing).
Kulebooks LLC, 9780997931150, 354pp.
Publication Date: February 28, 2019