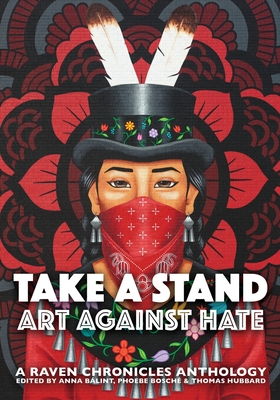 Take a Stand, Art Against Hate
A Raven Chronicles Anthology
Paperback

* Individual store prices may vary.
Description
Take a Stand: Art Against Hate, A Raven Chronicles Anthology, edited by Seattle-based writers Anna Balint, Phoebe Bosche, and Thomas Hubbard, contains poems, stories and images from 117 writers, 53 artists, 69 illustrations, divided into five fluid and intersecting sections: Legacies, We Are Here, Why?, Evidence, and Resistance. We begin with Legacies because the current increased climate of hate in this country didn't begin with the 2016 election, and to find its roots we must look to U.S. history. The work represents a wide range of proactively humanitarian and nonviolent stances that poets, artists, and activists have taken in response to the many troubles afflicting us in this era. We can regard Take a Stand: Art Against Hate as a print-form peace march, an ongoing campaign for justice for all of the struggles embodied in these writings and depicted in the photos and artwork included here. This is a deeply democratic anthology--standing alongside nationally prominent voices such as Jericho Brown, Lucille Clifton, Tess Gallagher, Ilya Kaminsky, Dunya Mikhail, Marge Piercy and Danez Smith, are luminaries renowned in the Pacific Northwest region and beyond, such as Kathleen Alcal , Gary Copeland Lilley, Claudia Castro Luna, Melissa Kwasny, Priscilla Long, Tiffany Midge, Carolyne Wright, and Gail Tremblay. This anthology comes at a critical time in our nation's cultural discourse surrounding intersections of identity, resistance, and looking at the past to forge a path forward. This collection spans form, tone, and theme without feeling cluttered; you find yourself reading something new while experiencing the same emotions many of us have come to find all too familiar. Thought-provoking and heart-wrenching, this collection--which boasts the words of Danez Smith and the art of Lawrence Paul Yuxweluptun and Alfred Arreguin--flows seamlessly from poetry to visual art, creating an anthology that is not only a commanding and introspective read, but a necessary one.
Raven Chronicles, 9780997946871, 370pp.
Publication Date: February 10, 2020