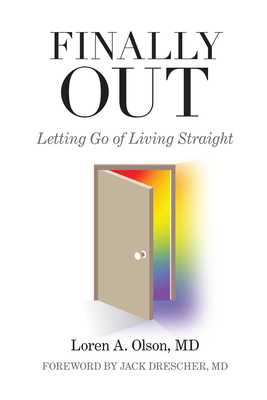 Finally Out
Letting Go of Living Straight
Paperback

* Individual store prices may vary.
Description
Dr. Loren A. Olson has frequently been asked two questions: How could you not know that you were gay until the age of forty? Wasn't your marriage just a sham to protect yourself at your wife's expense? In Finally Out, Dr. Olson answers these questions by telling the inspiring story of his evolving sexuality, into which he intelligently weaves psychological concepts and gay history. This book is a powerful exploration of human sexuality, particularly the sexuality of mature men who, like Dr. Olson, lived a large part of their lives as straight men—sometimes long after becoming aware of their same-sex attractions.

Readers will come to understand:

- That there is no universal model for coming out
- Why many older LGBTQ men came out late, do not come out at all, or come out to varying degrees in different environments
- How stigma has created mental health problems for isolated and closeted men who have sex with men, particularly in geographical areas and cultures where there is little or no acceptance of homosexuality
- How sexual function changes but perhaps even improves for older men
- That aging creates opportunities that one has never had and may never have again, e.g., freedom from the tyranny of ambition
- That some people consistently prefer an older sexual partner and this can lead to stable, intergenerational relationships
- How same-sex sexual activity was considered prior to the Stonewall uprising in 1969 contrasted with the way it is perceived after Stonewall
- How age, culture, geographical location, heterosexual marriage, and children impact a person's decision to come out
- Why "conversion therapy" does not work and may be harmful
- The difference between homophobia and homonaïveté
- The archetypes of self-identified straight men who seek occasional or regular sex with other men
- How to overcome the shame and guilt experienced by men who are sexually attracted to other men
Praise For Finally Out: Letting Go of Living Straight…
"Finally Out goes far beyond a coming out story of a married, middle-age gay man. It represents a carefully reasoned book about all human sexuality. Dr. Olson is so honest and direct that any reader will soon get the impression that he knows what he writes about. Lay readers, both gay and straight, will relate his ideas to their own lives, and professionals in social work, religion, psychology, and sociology will find this book invaluable."  —Dr. Bernard J. Brommel, professor emeritus, Northeastern Illinois University, coauthor, Family Communication: Cohesion and Change

"Finally Out is a much-needed book that fills out our picture of how gay men come to terms with the apparent dichotomy between their rational assumptions about the two sexes and their own set of sexual attractions that do not fit that norm. Loren Olson blends the story of his own experience of coming out and an array of scientific information to develop his thesis. An insightful read."  —Amity P. Buxton, PhD, author, The Other Side of the Closet

"I wondered why other men found it so difficult to come out. Now, after reading Finally Out, I understand."  —Larry Jacobson, motivational speaker, author, The Boy Behind the Gate

"Until recently, gay men over forty seemingly didn't exist. In Finally Out, Dr. Olson debunks such ignorance and lends insight into the hearts of mature men who can be gay, sexy, and respectable. It's high time."  —Tim Turner, playwright, journalist
Oak Lane Press, 9780997961430, 304pp.
Publication Date: April 1, 2017
About the Author
Loren A. Olson, MD, is a board-certified psychiatrist with more than forty years of experience. He has spent his professional life treating and advocating for those who suffer from mental illness, served as a medical executive working to improve the quality of care in psychiatric programs, and has taught psychiatry to a broad variety of health care professionals. He has been a consultant to the media and has been interviewed numerous times on television and radio. He lives in St. Charles, Iowa. Jack Drescher, MD, a psychiatrist and psychoanalyst and the editor-in-chief of the Journal of Gay and Lesbian Mental Health. He is the author of A Gay Man's Guide to Prostate and Psychoanalytic Therapy and the Gay Man. He lives in New York City.