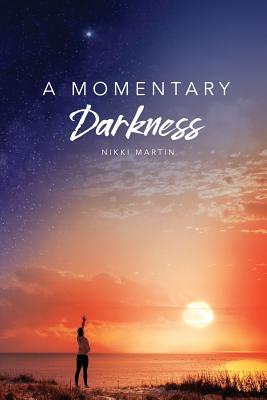 A Momentary Darkness
Paperback

* Individual store prices may vary.
Description
A MOMENTARY DARKNESS is the first novel in the dreamstate series, AWAKE WHILE DREAMING, by Nikki Martin. A MOMENTARY DARKNESS explores into the realm of fantasy by experimenting with the possibility of alternate worlds and lives. Martin writes a fluid world of memory and experience for her characters, adding their natural confusion to altered states of reality and questioning the conscious state of being.

On Earth, Kayla, an average yet troubled teen, is intent on a new beginning. She has moved in with her aunt and uncle in a small seaside town and is fighting her way back from the darkest time she has ever known. Lonely, lost, and unsure, she is plagued nightly by dreams so real they haunt her waking life and make her question the reality of who she is and why she is here.

On Alpha Iridium, Kale, who lives a life of constant danger and excitement, is looking for a resolution. She leads an alliance of rebels who are intent on changing their world for the better by stopping its leader, Randall Caine. Caine, once an unappreciated and rather humble scientist on Earth, has become a cruel and unforgiving influence on Alpha Iridium fourteen years after his arrival. The people are crumbling under his rule. While the rebel alliance hopes to thwart Caine, Kale must struggle with her past, her connection to Caine, and the truth of her obsession with stopping him.

Derin, a loyal soldier in Caine's army, must face the truth of what Caine has become, while he comes to terms with who he really is and what is required of him in a world on the brink of destruction. The people of Berdune, Alpha Iridium's only known populated continent, look for the courage to rise up against Caine as he fights to keep his strangle hold on them and destroy the rebels.

As we come to discover the intricate threads that tie everyone and everything in the universe together, we learn each choice made could change the fate of an entire planet and its people.

A MOMENTARY DARKNESS by Nikki Martin tests the limits of the world, of imagination, and, most importantly, of the reader. This is a story within stories that can be enjoyed by anyone who dares to wander in their dreamscape. The novel's dream reality is truly only one step past what we already know in the scientific world. The adventure of A MOMENTARY DARKNESS will lure the reader into questions about states of reality and altered consciousness. As the first book in a series, Martin gives us an introductory tribute to the beauty and complexity found in her AWAKE WHILE DREAMING world.

Thorncraft Publishing, 9780997968712, 340pp.
Publication Date: August 4, 2018