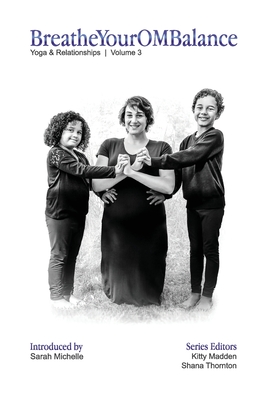 BreatheYourOMBalance
Yoga and Relationships
Paperback

* Individual store prices may vary.
Description
BreatheYourOMBalance: Yoga and Relationships explores our connections in writings created both before and after the every day reality of the coronavirus pandemic. For volume three of BreatheYourOMBalance(R), Sarah Michelle is joined by over twenty contributors in the aptly-themed Breathe book, a collection of poetry and nonfiction that explores how our yoga practice changes and challenges, supports and heals our relationships. The writings reveal our attempts to discover understanding in ourselves, as well as our families, friendships, and communities with the aid and inspiration of a yoga practice.
BreatheYourOMBalance(R) began as a t-shirt idea and became a yoga book series. The first volume, BreatheYourOMBalance: Writings about Yoga by Women (2016), is a tribute to the role that yoga has played in the lives of women, from overcoming diseases and abusive relationships to rising above self-doubt in order to discover self-empowerment and spiritual truths. In all subsequent volumes, we welcome people of all gender identities to contribute their work. BreatheYourOMBalance: Yoga and Healing (2018), the second volume, reveals the deepest truths to healing and pain, delving into grief and loss, in order to awaken a long-term capacity for healing through our yoga practices. The three volumes combine to reflect the kaleidoscopic beauty and variety of the impact a yoga practice can have on so many lives.
Thorncraft Publishing, 9780997968767, 134pp.
Publication Date: February 9, 2021