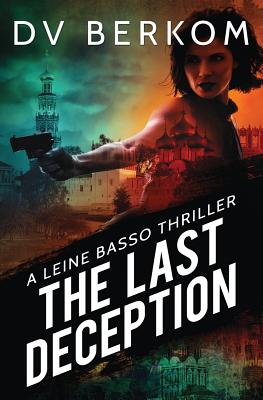 The Last Deception
A Leine Basso Thriller (Leine Basso Thrillers #6)
Paperback

* Individual store prices may vary.
Description
Lies. Deception. A nation on the brink of war…

In the Cold War, you knew who your friends and enemies were. In war today, there's no difference.

Just when former assassin Leine Basso thinks she's free from the business of murder and deception, a desperate call from a friend drags her back into the dark world of espionage and arms dealers.

Leine uncovers information that implicates a well-known Russian businessman in a horrendous deception that affects national security and could have global repercussions. It's up to the former assassin to persuade the powers that be to ignore the obvious and trust her, or disregard the information and bring the world to the brink of a devastating war. Can she make it in time to warn them before The Last Deception?
Praise For The Last Deception: A Leine Basso Thriller (Leine Basso Thrillers #6)…
"D.V. Berkom has created one kick-ass heroine in Leine Basso--a woman who can do it all in the dog-kill-dog world of international espionage.THE LAST DECEPTION is a smart spy thriller that grabs you from the first sentence and carries you through a maze of international bad dealings, life-threatening situations and more false flags than a pirate ship...Buckle your seat belts--you're in for the ride of your life." ~ J. Carson Black, New York Times bestselling thriller author

"DV Berkom will keep you turning the pages late into the night." ~Ed Kovacs, critically acclaimed author of Locked Down

"[The Last Deception] sucks you in on page one and doesn't set you free until the end. Another sure-fire winner in a spectacular series." ~Tim Tigner, International Bestselling Author of the Kyle Achilles series

"An adrenaline rush from the first page!" ~ Malcolm Barber

"Once I started [The Last Deception], I couldn't put it down...This one twisted and turned, kept a sense of reality as well as suspense." ~ Sharon Simms

"Exciting, Intriguing, Thrilling, Tragic, Frightening, Exhilarating, Thought Provoking. This story line keeps the reader guessing. For me, the world was on hold, the pages turned non-stop." ~ Helen Callahan

"...This is a cracking read. I read this in one day from start to finish...If you like espionage thrillers then this is the book for you. Highly recommended must read."~Steve Bonczyk
Duct Tape Press, 9780997970869, 332pp.
Publication Date: September 20, 2017
About the Author
DV Berkom is the USA Today bestselling author of two action-packed thriller series featuring strong female leads: Leine Basso and Kate Jones. Her love of creating resilient, kick-ass women characters stems from a lifelong addiction to reading spy novels, mysteries, and thrillers, and longing to find the female equivalent within those pages.

DV currently lives in the Pacific Northwest with her husband, Mark, and several imaginary characters who like to tell her what to do. Her most recent books include The Last Deception, Vigilante Dead, A Killing Truth, Cargo, A One Way Ticket to Dead, and Yucatán Dead>/i>.

For more information, visit her website at www.dvberkom.com. To be the first to hear about new releases and subscriber-only offers, go to: http://bit.ly/dvbNews

Books in order:

The Kate Jones Thriller Series:
Bad Spirits (#1)
The Kate Jones Thriller Series, Vol. 1 (#1-4: Bad Spirits, Dead of Winter, Death Rites, Touring for Death)
Cruising for Death (#5)
Yucatán Dead (#6)
A One Way Ticket to Dead (#7)
Vigilante Dead (#8)

The Leine Basso Thriller Series:
Serial Date (#1)
Bad Traffick (#2)
The Body Market (#3)
Cargo (#4)
A Killing Truth (A Leine Basso thriller prequel #5)
The Last Deception (#6)