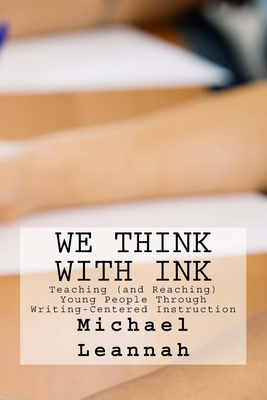 We Think with Ink (Paperback)
Teaching (and Reaching) Young People Through Writing-Centered Instruction
Brightside Publications, 9780997976502, 148pp.
Publication Date: October 13, 2016
* Individual store prices may vary.
Description
We Think With Ink is an ideas book for elementary and middle school teachers seeking to merge writing instruction into science, social studies, and math classes. It is also a guide for teachers looking to help students increase self-confidence and self-esteem. It is a book for students working independently on creative writing skills, as well as a manual for learners young and old who aspire to be good - even published - writers. Written by a teacher with more than thirty years' experience in the classroom, We Think With Ink is a trove of lessons, projects, and activities designed to increase reading and writing skills in the classroom.
About the Author
Michael Leannah has more than thirty years' experience in elementary and middle schools. He writes fiction and nonfiction for children and adults. He is the award-winning author of Something for Everyone: Memories of Lauerman Brothers Department Store, and the children's picture books Goodnight Whispers, Most People, and Farmer Huckinshuck's Wild Ride. Leannah's children's stories have appeared in magazines in the United States and Australia. His award-winning radio plays have been performed in many cities. He lives in Sheboygan, Wisconsin.