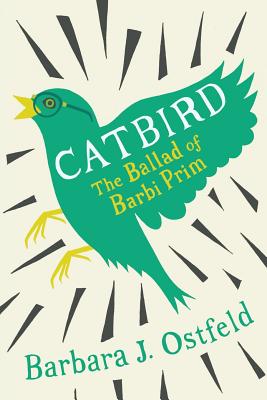 Catbird
The Ballad of Barbi Prim
Paperback

* Individual store prices may vary.
Description
In Catbird: The Ballad of Barbi Prim, the world meets an insightful, opinionated eight-year-old who's already taken a few steps toward becoming a pioneer—but also a shadow of her quirky self. Although she's corroded—sometimes literally—by a toxic but familiar social atmosphere, her love of singing propels her to become the first ordained woman cantor in 3,000 years of Jewish history. A family crisis exposes old and enduring wounds, but she begins to rescue herself—by diligently going to therapy—and embarks on an imperfect but perpetual metamorphosis, becoming the well-coiffed heroine of her own story. Barbara Ostfeld shows us that we are all brave pioneers—at becoming our true selves.
Praise For Catbird: The Ballad of Barbi Prim…
In a world where we struggle still for gender equality, we do not always hear stories that reveal how the unwritten rules of society cause harm and affect an individual's sense of self. But in this extraordinarily powerful memoir, Barbara Ostfeld shares her lived reality, refusing to shy away from difficult experiences—even one she concealed for decades from herself and others. Catbird will bring hopeful courage to those who are fighting their own demons.
—Sally J. Priesand, America's first female rabbi, and Rabbi Emerita of Monmouth Reform Temple, Tinton Falls, NJ


Funny, heartbreaking, and yet bursting with hope, Catbird will resonate with any woman who's ever been bullied for being too plain, too fat, too smart, too talented, too different, or not good enough. Internalizing these judgments, we grew up learning to accept them, developing a sense of worthlessness and getting good at hating ourselves. Ostfeld illustrates how she eventually learned to love herself—as we all deserve to do.
—Helen Aronoff, M.D., Child and Adolescent Psychiatrist with Western New York Children's Psychiatric Center

Catbird celebrates the sweetness of hard-won self-acceptance. Its detailed vignettes portray conflicting experiences of affection and encouragement, feelings of being an outsider, and liberation in music and books. Through it all, Ostfeld reveals the stunning power of dissent, persistence, and long-term therapy to break the stranglehold of narrowly scripted femininity.
—Lois Weis, Ph.D., State University of New York Distinguished Professor, and coauthor of Class Warfare: Class, Race, and College Admissions in Top-Tier Secondary Schools

Erva Press, 9780998032610, 358pp.
Publication Date: March 27, 2019
About the Author
Barbara Ostfeld didn't become obsessed by singing until she was two. Though she didn't learn to ride a bike until she was twelve and never did learn to climb to the top of the rope in gym, at seventeen she innocently cracked through a stained glass ceiling and was admitted to Hebrew Union College's School of Sacred Music. At age twenty-two she became the first woman ordained as a cantor in 3,000 years of Jewish history, but foolishly turned down an invitation to appear on What's My Line? Nevertheless she persisted, serving for more than twenty-seven years as cantor of congregations in Clifton, New Jersey, and in Great Neck, Rochester, and Buffalo, New York, and then for ten years as the placement director of the American Conference of Cantors.

Barbara lives in Buffalo, New York, with her husband and an assortment of mildew-spotted African violets. She would own at least one cat if she didn't care about her husband. Her essays have appeared in Lilith Magazine, New Jewish Feminism, and elsewhere.