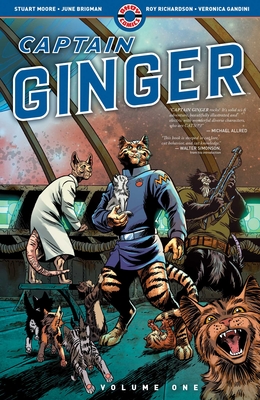 Captain Ginger
Volume One
Paperback

* Individual store prices may vary.
Other Editions of This Title:
Paperback (11/10/2020)
Description
Now in one volume: the acclaimed tale of a starship run by cats The intrepid Captain Ginger struggles to keep his fellow felines united against a hostile universe--and their own worst feline instincts, too. Featuring the entire original miniseries, plus two rare extra stories and a sketchbook of character designs. Written and co-created by novelist/comics writer Stuart Moore (The Zodiac Legacy, EGOs, Deadpool the Duck). Art by cocreator June Brigman (Power Pack, Star Wars novels). Color by Veronica Gandini. Introduction by Walter Simonson (Thor, Ragnarok). "Entertaining...this intergalactic feline space story is both action-packed and full of humor." -Albany Times Union "It's a sci-fi story first, make no mistakes, but with so many strong characters onboard, I look forward to the catfights, comedy and--wait for it--catastrophes to come." -Comicon "Captain Ginger rocks " - Michael Allred, creator of Madman, artist of Silver Surfer "This book is steeped in cat lore, cat behavior, and cat knowledge." -Walter Simonson, writer/artist of Ragnarok and Thor, from his introduction "A fantastic wild ride of space exploration, cat drama, and galactic size imagination." -Everything Action "So wonderfully trippy and science fiction-y it reminds readers what it is about sci-fi that they love." - Adventures in Poor Taste STUART MOORE is a writer, a book editor, and an award- winning comics editor. His recent comics writing includes Deadpool the Duck (Marvel), EGOs (Image), and Bronze Age Boogie (AHOY). His novels include three volumes of The Zodiac Legacy, a bestselling Disney Press series created and cowritten by Stan Lee, Thanos: Death Sentence (Marvel), and X-Men: The Dark Phoenix Saga (Titan). JUNE BRIGMAN has enjoyed a long and varied career as a cartoonist, drawing such comic book titles as Alpha Flight, Supergirl, and Star Wars. She is the co-creator (with Louise Simonson) of the Power Pack series from Marvel Comics, which recently celebrated its 30th anniversary. Assisted by her husband, inker/colorist ROY RICHARDSON, she illustrated the Brenda Starr comic strip for 15 years, and has drawn many educational comics, as well as doing freelance illustrations for Horse & Rider magazine. The pair have recently taken over the artistic reins of the long-running Mary Worth comic strip.

Ahoy Comics, 9780998044217, 128pp.
Publication Date: June 18, 2019
or
Not Currently Available for Direct Purchase