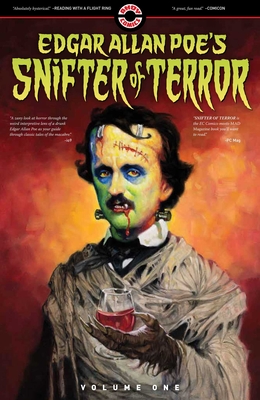 Edgar Allan Poe's Snifter of Terror
Volume One
Paperback

* Individual store prices may vary.
Description
EDGAR ALLAN POE mangles classic tales and brand new stories in this cross between Drunk History and Tales from the Crypt A comedic collection of Edgar Allan Poe's sickest stories, adapted by comics' snarkiest talents, and original stories--all introduced by Poe at his drunkest. Collecting all of the comics from the 6-issue AHOY Comics series, plus prose, a puzzle, and poetry. "A zany look at horror through the weird interpretive lens of a drunk Edgar Allan Poe as your guide through classic tales of the macabre." -- io9 "Snifter of Terror is the EC Comics-meets-Mad Magazine book you'll want to read." -- PC MAG "A tantalizing new collection of frightful stories ..... It's a refreshing measure of the macabre from some of the genre's top talent, with a unique twist on the source material."-- SYFY WIRE "What do you get when you mix Edgar Allan Poe, syphilis, breakfast cereal, and a barnacle? Sounds like a joke with a terrible punchline, but in this case, the result is splendid. Edgar Allan Poe's Snifter of Terror #1 provides the world with all of that and so much more." -- FANBASE PRESS "'Dark Chocolate' by Russell and Snejbjerg is...an absolute work of genius. If ever there needed to be one sole reason to check this book out, it's this story. It's no secret that Mark Russell is a great writer and can turn just about any idea into solid gold, but this story about a vampire who is renowned for his breakfast cereals is fantastic. Russell's wit is all over the tale and Snejbjerg's cartoonish style works perfectly with the tone." -- ADVENTURES IN POOR TASTE "We're suckers for a great anthology, and the creator list AHOY has put together here is beyond amazing." -- COMICS BEAT "Exploring hilariously dark tales of suspense, shock and horror, this is one ghoulishly excellent comic you won't want to miss " -- IMPULSE GAMER "A great, fun read." -- COMICON "Fun and creepy in all the right ways." -- FANDOM POST "Absolutely hysterical." -- READING WITH A FLIGHT RING "Writer Rachel Pollack brings together the eerie tones of the original, with some opium flavored humor to make silly jokes at Poe's expense. Rick Geary's renditions of Victorian-era art, with Michael Garland's colors, perfectly captures the gothic ambiance with comedic expressions."-- EVERYTHING ACTION.
Ahoy Comics, 9780998044231, 192pp.
Publication Date: October 15, 2019