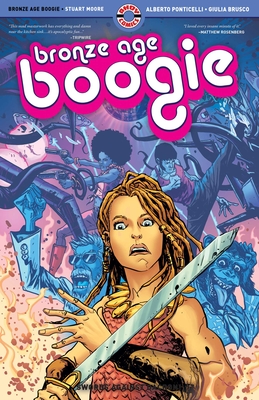 Bronze Age Boogie
Volume One: Swords Against Dacron!
Paperback

* Individual store prices may vary.
Description
What do you get when you combine all the best-loved pop culture genres of the 1970s: apes, monsters, Kung Fu, sword-and-sorcery, and cosmic adventure? You get BRONZE AGE BOOGIE, an intense, character-based action-fest with plenty of style Young barbarian princess Brita Constantina finds herself battling a Martian invasion--in both 1975 AD and BC--alongside a time-tossed crew. Featuring Jackson Li, Master of Martial Arts; Lynda Darrk, street warrior; the timeless being called GODD; and many more, including Doc Lunar, Sniffer Ape, and Go-Go Golem. Join the party, baby "A wacky genre mash-up that starts with a bang, throwing readers into a massive ancient conflict while steadily injecting strange new elements into the plot.... The sense of scale Ponticelli brings to the battle is very impressive, and he packs the spread with detail that Brusco matches in her vibrant, textured coloring." -- AV CLUB "Prepare to discover BRONZE AGE BOOGIE. The series combines the best-selling comic genres of the 1970s -- beyond superheroes -- into one wild adventure as monsters, kung fu, fantasy, cosmic adventure and of course apes collide when a barbarian princess faces a martian invasion in 1975 AD. But don't expect the creative team of Stuart Moore, Alberto Ponticelli and Giulia Brusco to go for the easy way-back jokes with this series."--HOLLYWOOD REPORTER "A love letter to the 70's and to your favorite sci-fi and fantasy stories." -- COMICON "This mad masterwork has everything and damn near the kitchen sink.... iI's apocalyptic fun on all ends of the timeline."-- TRIPWIRE "Superheroes may be the most popular type of comic story, but the joy of the format is that it can mix and match genres in a unique way. That is on full display in this fun new series." -- ENTERTAINMENT WEEKLY "From its jawdroppingly odd first page to its hilariously insane last, BRONZE AGE BOOGIE sets itself apart from every other comic in the best possible ways. I loved every insane minute of it." --Matthew Rosenberg (Uncanny X-Men, The Punisher, 4 Kids Walk Into A Bank) "It's like skateboarding uncontrollably through 1970s comics with kaleidoscopes strapped to your eyes -- but in a good way I mean, I guess they could have called it SAVAGE SWORD OF THE PLANET OF THE DEADLY HANDS OF THE WORLDS ON THE LOOSE...but BRONZE AGE BOOGIE is, at the very least, shorter. Don't miss it " -- Kurt Busiek (Astro City, Marvels) "This is the monthly comic book medium at its best."-- MULTIVERSITY COMICS "Packed with sheer entertainment from start to finish, BRONZE AGE BOOGIE #1 is guaranteed to put a smile on your face."-- WMQ COMICS "The writing is extremely intelligent and amusing, subverting a lot of known quantities in the name of comedy." -- OMNI COMIC "A fantastically entertaining and psychedelic ride." -- BIG COMIC PAGE "I didn't know what to expect before reading this, but whatever those expectations were, consider them shattered...in a FANTASTIC way This may seem like wall-to-wall insanity, but it's an absolute party full of ideas that I'm all in for hanging around and seeing what more madness they develop into. ... Give this book a read if you want something completely different to everything else on your stack."-- POP CULT HQ "Kung fu, swords and talking apes. You don't need more than that, do you?" -- 13TH DIMENSION

Ahoy Comics, 9780998044255, 160pp.
Publication Date: November 19, 2019
or
Not Currently Available for Direct Purchase