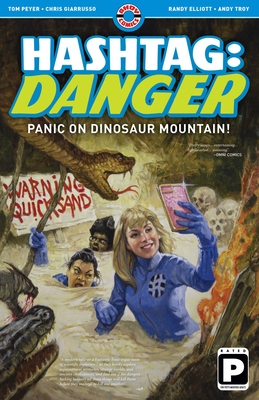 Hashtag Danger
Panic on Dinosaur Mountain!
Paperback

* Individual store prices may vary.
Description
Written by Tom Peyer (The Wrong Earth, Hourman) with art by Chris Giarrusso (Mini-Marvels, G-Man). Three scientific adventurers face strange creatures, lost civilizations, and supernatural threats-when they're not too busy being complete jerks to each other.

This volume collects all the HASHTAG: DANGER stories from issues #1-5, plus the back-features from AHOY titles HIGH HEAVEN and CAPTAIN GINGER.
Praise For Hashtag Danger: Panic on Dinosaur Mountain!…
A modern take on a Fantastic Four-esque team of scientific explorers…. as they boldly explore supernatural mysteries, strange worlds, and ancient civilizations, and find out if the dangers lurking beneath all those things will kill them before they manage to kill one another.
— io9

HASHTAG: DANGER! is the greatest thing since sliced bread, and, as we all know, sliced bread is pretty great—vastly superior to unsliced bread which has to be pulled apart with your fist like an animal.
— Erik Larsen
AHOY Comics, 9780998044262, 168pp.
Publication Date: December 3, 2019
About the Author
This slope-shouldered industry veteran was a long-running writer on DC's Legion of Super-Heroes, a founding editor at their Vertigo imprint, and the proud writer of their worst-selling, award-losing series Hourman.

He has since written enough major characters to fill one of those hyper-populated super-hero posters where you don't know who to look at first.

Today he happily writes and edits AHOY Comics from his Ditkoesque office in Downtown Syracuse, NY.

Chris Giarrusso is a writer and artist best known for creating the G-Man graphic novel series for young readers at Image Comics and the Mini Marvels strips at Marvel Comics. His work has been published by Andrews McMeel, Scholastic, Marvel, Image, IDW, Valiant, Lion Forge, and several independent publishers. Chris is currently drawing Encounter for Lion Forge and HASHTAG: DANGER for AHOY Comics. Check out more of Chris's books, art, webcomics, and animation at his official website, chrisgiarrusso.com.

Randy Elliott, a Syracuse native, has been working professionally in comics since 1988. Over the last 30 years he has created work for publishers like DC, Wildstorm, Dark Horse, Marvel, Archie and Valiant, working on titles as diverse as Dragonlance, Stormwatch, Justice League Europe, Excalibur, Turok, Bionicle and Scooby-Doo. He is very excited to be part of the AHOY crew!

Andy Troy has colored for Marvel Comics, DC Comics, Extreme Studios, and others, working on such characters as Spawn, Batman, Captain America and Iron Fist. He lives and works in Hunsville, AL, where he used to play in the metal band Diamond White.
or
Not Currently Available for Direct Purchase