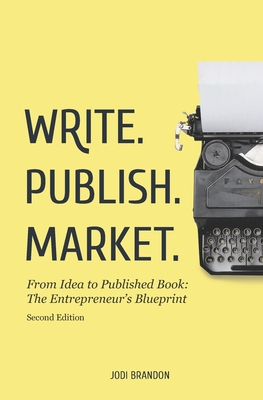 Write. Publish. Market. 2nd Edition
From Idea to Published Book: The Entrepreneur's Blueprint
Paperback

* Individual store prices may vary.
Description
Write.Publish.Market. 2nd edition is a simple blueprint you can employ to produce top-of-the-sales-funnel products to increase your influence and boost your revenue. Organized into logical bite-sized sections, Brandon cuts to the chase, showing you where and when to outsource. By leveraging your time and money following her straightforward plan, you'll soon be adding a lucrative string to your entrepreneurial bow.In Write.Publish.Market. 2nd edition, you'll discover: - The exact process to follow to create a lead magnet supporting your operation- Which mindset shifts to adopt for a successful outcome- What you should DIY versus what you absolutely must hire out to avoid embarrassing mistakes- How to negotiate with service providers to stretch your dollars- Ways to launch your new baby into the world with a splash, useful examples, anecdotes, and much, much more Write.Publish.Market. 2nd edition is your over-the-shoulder coach to getting your book into the hands of valuable prospects. If you like no-fluff techniques, "been-there, done-that" expertise, and time-saving tactics, then you'll love Jodi Brandon's smart-thinkers' resource.
Jodi Brandon, 9780998052113, 160pp.
Publication Date: September 24, 2019